Location: TheRuckSack home page > upcoming trips page > trip page
Sierra Club Wilderness trips and expeditions
Chapter: Michigan (Mackinac)
Group: Central Upper Peninsula (CUPG)
Leader: Michael Neiger, Marquette, Michigan (Web site; e-mail; bio)
---
Review trip journal no. 1, trip journal no. 2, and photo album from this completed trip
Read about plans for next year's expedition
February 10-15, 2005
(note: date changed as of 9-22-04)
18th Annual Canadian Snowshoe Expedition
This year's annual, advanced-level, winter-camping trip--which will be our 18th Annual Canadian Snowshoe Expedition--will involve a six-day snowshoe tour pulling cargo sledges (five, first-come, first-serve, $5-rental club sleds available by prior arrangement) just as the Ojibwa travelled for 100s of years. We travel deep into the heart of the non-motorized Lake Superior Provincial Park in Canada. Our only companions will be the wild timber wolf and the majestic moose.
While our final route will depend on river and lake ice conditions as well as snow depths, we will likely try to reach the old, abandoned, two-story executive lodge on Old Woman Lake.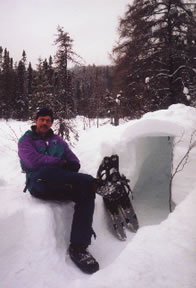 Destination:
Lake Superior Provincial Park,
Old Woman Lake Lodge
Algoma District
South of Wawa, Ontario
Experience level:
Expert-level, minus 50 degree wintercamping
with sledge ($5 club rental) and snowshoes
Requires prior winter-camping experience with leader
Difficulty:
Extremely strenuous
Off-trail/on-trail rating:
100 percent off-trail map & compass recon
Participant requirements:
-- Notice: please review the homepage on this Web site
for general wilderness tripping requirements
-- 18 years old or older
-- non-smoker and non-drinker
-- very physically fit (good aerobic endurance)
-- adventurous spirit
-- proficient swimmer
-- prior wilderness tripping experience
-- fully equipped with lightweight backpacking gear
including rucksack, bivouac gear, survival gear,
foul-weather gear, rations, stove, etc.
Bivouac advisory:
This is not a basecamp trip.
We will move each day
and bivouac in a different location each night,
often deep in the bush and far from roads,
dry & level campsites, potable water, toilets, and fire rings.
Trip info:
-- 8 a.m. Thursday to late afternoon on Tuesday
-- Club fee: $20
-- Rental of club sledge: $5
-- Other fees: None, LSPP is closed during the winter
-- Sign up by January 27 appreciated
-- Contact trip leader for sign up, or application form if new
-- Review journals and photos from similar wilderness trips

Specialized equipment required:
-- In-pocket survival kit (knife, matches, firestarters,
compass, whistle); Sierra Club survival kits can be
borrowed free of charge
-- Ice-rescue picks
Rations required:
-- Breakfasts--5
-- Snacks--6
-- Lunches--6
-- Dinners--5
-- Backup rations--2 full days
-- Rations and stoves info
Additional destination info:
--Algoma Central Railway, 1-800-242-9287, http://www.algomacentralrailway.com
--Lake Superior Provincial Park headquarters, 1-705-856-2284, http://www.mnr.gov.on.ca/MNR/parks/lakes.html
--"Railpacking," by Don Stap, "Backpacker Magazine", September 1985, pp. 48-49.
--"Backpacking and Wilderness Camp Site Areas in Algoma Central Country," undated 3-page photocopy by Algoma Central Railway.
--"Canoe Routes," Lake Superior Provincial Park, 2000 edition
--"Hiking Trails," Lake Superior Provincial Park, 2001 edition
--"The Complete Guide to Walking in Canada," by Elliott Katz (Firefly Press, 2001)
--"Voyageur Hiking Trail Guidebook," (Voyageur Trail Association, 1998)
-- Search destination in http://www.google.com search engine

Travel info:
-- Driving maps
-- Road conditions and weather reports
-- Tourism info
-- Road trip gear
Wilderness skills and resources info:
-- Backpacking skills
-- Land nav skills
-- River fording skills
-- Water purification skills
-- Lightning safety
-- Low-impact skills
-- Backpacking links, books, & vendors
-- Ultralight backpacking links, books, & vendors
-- Dressing warm skills
-- Sleeping warm skills
-- Winter-camping skills
-- Ice-crossing skills
-- Snowshoe links, books, & vendors
-- Winter-camping links, books, & vendors

Emergency contacts:
-- Ontario Provincial Police, Wawa, 1-888-310-1122
-- Ambulance, 705-856-4203
-- Hospital, 705-856-2335
-- LSPP Red Rock Lake Headquarters, 705-856-2284
-- Sierra Club Outings Department 24-hour help line: 1-888-outings

Land Nav Team Info:
Topographic maps:
1:50,000 Old Woman Lake 41N/10 & 41N/11 (required)
1:20,000 20-16-6600-52700 (Ontario base map, optional)
1:20,000 20-16-6600-52800 (Ontario base map, optional)
1:20,000 20-16-6700-52700 (Ontario base map, optional)
1:20,000 20-16-6700-52800 (Ontario base map, optional)
--Topo map ordering information
--Topo map waterproofing & GPS prep
Park maps:
1:100,000 Lake Superior Provincial Park Map
--Order at 1-705-856-2284
2005 Magnetic declination specs:
Magnetic declination for Lat 47° 40'N, Lon 84°48'W:
07° 17' west
UTM easting grid line to meridian line deviation:
01° 40' east
UTM easting grid line magnetic declination:
08° 57' west
GPS configuration specs:
Grid coordinate system
1000-meter Universal Transverse Mercator Grid (UTM)
UTM grid horizontal map datum:
1:20,000 maps:
1927 North American Datum Canada (NAD 27 Can)
1:50,000 edition 2 (old) maps:
1927 North American Datum Canada (NAD 27 Can)
1:50,000 edition 3 (current) maps:
1983 North American Datum (NAD 83)
UTM grid zone:
Zone 16
UTM grid hemisphere:
Northern hemisphere
Unit of measure:
Metric
Battery type:
Lithium, for deep cold, or long-range use
Alkaline, for 3-season use
Battery type setting:
Select type of battery (lithium, alkaline, or Ni-Cad);
battery discharge-rate differences affect meter accuracy
Misc nav setup:
Roamer UTM plotter scale(s):
1:20,000 & 1:50,000
Ranger pacing beads:
Metric--9 100-meter beads; 4 1-kilometer beads
Magnetic declination setting on compass:
0° of offset
More land nav team info
Return to upcoming trips page and read about another trip
---
| |
In God's wilderness lies the hope of the world,
the great, fresh, unblighted, unredeemed wilderness.
— John Muir 1838-1914, Alaska Wilderness, 1890

Content Copyright © 1984-- 2005-09-09
by Michael A. Neiger

* All rights reserved *
No part of this Web page or this Web site protected by copyright law may be reproduced, transmitted, or used in any form--including graphic, electronic, Web, mechanical or other form--or by any means--including photocopying, recording, taping, Internet distribution, information storage retrieval system, or by other means--for any purpose, except by a reviewer, who may quote brief passages, without the prior, express, written permission of the author.
* Disclaimer *
The information contained on this Web page and this Web site are provided solely for information, illustrative, and discussion purposes. Although the author has made a sincere effort to ensure the accuracy and reliability of the information presented on this Web page and this Web site, no warranty is expressed or implied. The author assumes no responsibility or liability for any injuries, damages, losses, or other consequences that may result from the use of the information contained on this Web page and this Web site. As with any human endeavor, omissions, inaccuracies, and errors will occur on this Web page and this Web site and the author makes no representations or warranties with respect to the accuracy or completeness of the information presented or that the information presented will produce any particular result or be suitable for any particular situation, person, organization, or other entity. While corrections and revisions may or may not be made from time to time, any changes made to this Web page and this Web site are made without obligation to notify any person, organization, or other entity of any such changes. The activities associated with the information contained on this Web page and this Web site are by their very nature inherently dangerous and the information presented can not take the place of good personal judgement, sound decision-making, professional training, proper equipage, adequate physical fitness, and expert guidance by trained and experienced professionals.

Comments? Suggestions?
Dead links? Inaccurate info?
Contact the WebMaster at mneiger@hotmail.com
A MacroMedia DreamWeaver 4 and Fireworks 4 production
Web site URL -- http://therucksack.tripod.com
|