Location: TheRuckSack home page > upcoming trips page > trip page
Sierra Club Wilderness trips and expeditions
Chapter: Michigan (Mackinac)
Group: Central Upper Peninsula (CUPG)
Leader: Michael Neiger, Marquette, Michigan (Web site; e-mail; bio)
---
Review trip journal and photo album from this completed trip
March 5-11, 2006

Winter camping
This 7-day trip will be a snowshoe tour pulling cargo sledges (five, first-come, first-serve, $5-rental club sleds available by prior arrangement) just as the Ojibwa travelled for 100s of years before us. We'll explore the shoreline of Pictured Rocks National Lakeshore between Miners Basin and the Beaver Basin, which is up for Wilderness Designation. Along the way, we'll explore ice caves, ice falls, and wilderness caves that dot the shoreline as well as the park's remote backcountry.
Mary Powell (in front of cave
on right side of photo) emerges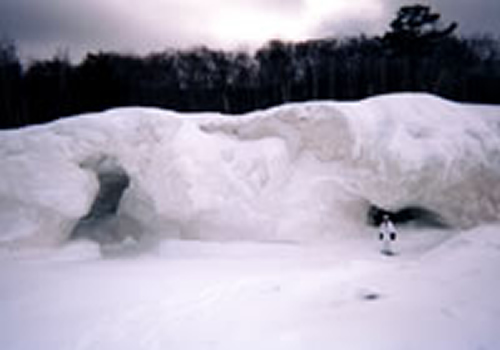 from an ice cave
along the shore of
Lake Superior
near the mouth
of the Mosquito River
in the Pictured Rocks
National Lakeshore,
March 2003.
(Photo by Mary Powell)

Destination:
Pictured Rocks National Lakeshore:
Shoreline Trail; Chapel, Miners, & Beaver Basins
Alger County
Upper Michigan, east of Munising
Experience level:
Advanced-level, minus 20 degree wintercamping
with sledge ($5 club rental) and snowshoes
Requires prior winter-camping experience with leader
Difficulty:
Extremely strenuous
Off-trail/on-trail rating:
50 percent off-trail map & compass recon
Participant requirements:
-- Notice: please review the homepage on this Web site
for general wilderness tripping requirements
-- 18 years old or older
-- non-smoker and non-drinker
-- very physically fit (good aerobic endurance)
-- adventurous spirit
-- proficient swimmer
-- prior wilderness tripping experience
-- fully equipped with lightweight backpacking gear
including rucksack, bivouac gear, survival gear,
foul-weather gear, rations, stove, etc.
Bivouac advisory:
This is not a basecamp trip.
We will move each day
and bivouac in a different location each night,
often deep in the bush and far from roads,
dry & level campsites, potable water, toilets, and fire rings.
Trip info:
-- 8 a.m. Sunday to mid-afternoon on Saturday
-- Club fee: $15
-- Rental of club sledge: $5
-- PRNL Camping Permits: approximately $30
Requires advance payment; nonrefundable
-- Sign up by February 22 required
-- Contact trip leader to sign up, or for application form if new
-- Review journals and photos from similar wilderness trips
Specialized equipment required:
-- In-pocket survival kit (knife, matches, firestarters,
compass, whistle); Sierra Club survival kits can be
borrowed free of charge
-- Whistle on parka zipper shell
-- Ice-rescue picks (Sierra Club loaners available)
-- CLIMBING/CAVING HELMET: must have chin strap
and be UIAA (International Union of Alpine Associations)-
or CEN (European Community Norm)-approved (Sierra Club rentals available).
-- One climbing-grade, large oval, locking carabiner
-- Two climbing-grade carabiners
-- Two prusik loop ascenders (two, 5-foot-long pieces of
6-mm perlon accessory cord)
-- One figure-8 descender with belay-rated hole
-- One swami belt with leg loops (one, 21-24 foot-long piece
of 7-mm perlon accessory cord or 9/16-inch-wide
tubular webbing)
-- Two webbing slings (two, 8-foot-long pieces of
9/16-inch-wide tubular webbing)
-- Simple, non-mountaineering crampons for use on ice
Rations required:
-- Breakfasts--7
-- Snacks--7
-- Lunches--7
-- Dinners--6
-- Backup rations--1 full day
-- Rations and stoves info
Additional destination info:
-- Pictured Rocks National Lakeshore http://www.nps.gov/piro/ 1-906-387-3700
-- Book: Pictured Rocks National Lakeshore--A Guide by Olive Anderson (1988, Bayshore Press)
-- Book: Scenic Highlights at the Pictured Rocks National Lakeshore and Adjacent Areas by Richard W. Holzman (1990, Royal Gallery)
-- Book: By the Shining Big-Sea-Water--The Story of Pictured Rocks 10,000 B.C. to 1966 A.D. by Olive M. Anderson (1989, Bayshore Press)
-- Book: Backpacking in Michigan by Pat Allen and Gerald L. DeRuiter (1989 University of Michigan Press)
-- Book: Exploring Superior Country--The Nature Guide to Lake Superior by Craig Charles (1992, NorthWood Press, Inc.)
-- Book: Michigan Ice--An Ice Climbers Guide to the Central Upper Peninsula of Michigan by Bill Thompson (1998 Michigan Ice)
-- Book: Hiking Michigan (Fox River Pathway info) by Mike Modrzynski (1996 Falcon Press)
-- Brochure: Fox River Pathway, order map/text brochure from the Lake Superior State Forest, Shingleton Forest Area, M-28 West, P.O. Box 86, Shingleton, Michigan 49884
-- Search destination in http://www.google.com search engine

Travel info:
-- Driving maps
-- Road conditions and weather reports
-- Tourism info
-- Road trip gear
Wilderness skills and resources info:
-- Backpacking skills
-- Land nav skills
-- River fording skills
-- Water purification skills
-- Lightning safety
-- Low-impact skills
-- Backpacking links, books, & vendors
-- Ultralight backpacking links, books, & vendors
-- Dressing warm skills
-- Sleeping warm skills
-- Winter-camping skills
-- Ice-crossing skills
-- Snowshoe links, books, & vendors
-- Winter-camping links, books, & vendors

Emergency contacts:
-- Pictured Rocks National Lakeshore: 1-906-387-3700
-- Alger County Sheriff: 1-906-387-4444
-- Munising State Police: 1-906-387-4540
-- Hospital (Munising): 1-906-389-4110
-- Sierra Club Outings Department 24-hour help line: 1-888-outings

Land Nav Team Info:
Topographic maps:
1:24,000 Indian Town, Michigan
1:24,000 Wood Island SE, Michigan
1:25,000 Melstrand, Michigan
1:25,000 Grand Portal Point, Michigan
1:25,000 Trappers Lake, Michigan
--Topo map ordering information
--Topo map waterproofing & GPS prep
Pictured Rocks National Lakeshore maps:
Pictured Rocks Official Map and Guide (free handout)
1:62,500 Pictured Rocks National Lakeshore, Michigan topo
--Order at 1-906-387-3700
County maps:
Alger County
--County map ordering information
2006 Magnetic declination specs:
Magnetic declination for Lat 46° 33'N, Lon 86°30'W:
05° 21' west
UTM easting grid line to meridian line deviation:
00° 20' east
UTM easting grid line magnetic declination:
05° 41' west
GPS configuration specs:
Grid coordinate system
1000-meter Universal Transverse Mercator Grid (UTM)
UTM grid horizontal map datum:
1:24(5),000 maps:
1927 North American Datum Canada (NAD 27 CONUS)
UTM grid zone:
Zone 16
UTM grid hemisphere:
Northern hemisphere
Unit of measure:
Metric
Battery type:
Lithium, for deep cold, or long-range use
Alkaline, for 3-season use
Battery type setting:
Select type of battery (lithium, alkaline, or Ni-Cad);
battery discharge-rate differences affect meter accuracy
Misc nav setup:
Roamer UTM plotter scale(s):
1:24,000 & 1:25,000
Ranger pacing beads:
Metric--9 100-meter beads; 4 1-kilometer beads
Magnetic declination setting on compass:
0° of offset
More land nav team info
Return to upcoming trips page and read about another trip
---
| |
In God's wilderness lies the hope of the world,
the great, fresh, unblighted, unredeemed wilderness.
— John Muir 1838-1914, Alaska Wilderness, 1890

Content Copyright © 1984 -- 2006-03-26
by Michael A. Neiger

* All rights reserved *
No part of this Web page or this Web site protected by copyright law may be reproduced, transmitted, or used in any form--including graphic, electronic, Web, mechanical or other form--or by any means--including photocopying, recording, taping, Internet distribution, information storage retrieval system, or by other means--for any purpose, except by a reviewer, who may quote brief passages, without the prior, express, written permission of the author.
* Disclaimer *
The information contained on this Web page and this Web site are provided solely for information, illustrative, and discussion purposes. Although the author has made a sincere effort to ensure the accuracy and reliability of the information presented on this Web page and this Web site, no warranty is expressed or implied. The author assumes no responsibility or liability for any injuries, damages, losses, or other consequences that may result from the use of the information contained on this Web page and this Web site. As with any human endeavor, omissions, inaccuracies, and errors will occur on this Web page and this Web site and the author makes no representations or warranties with respect to the accuracy or completeness of the information presented or that the information presented will produce any particular result or be suitable for any particular situation, person, organization, or other entity. While corrections and revisions may or may not be made from time to time, any changes made to this Web page and this Web site are made without obligation to notify any person, organization, or other entity of any such changes. The activities associated with the information contained on this Web page and this Web site are by their very nature inherently dangerous and the information presented can not take the place of good personal judgement, sound decision-making, professional training, proper equipage, adequate physical fitness, and expert guidance by trained and experienced professionals.

Comments? Suggestions?
Dead links? Inaccurate info?
Contact the WebMaster at mneiger@hotmail.com
A MacroMedia DreamWeaver 4 and Fireworks 4 production
Web site URL -- http://therucksack.tripod.com
|