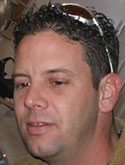 Welcome to Derrick Henagan's missing-person Website.

• Gone-missing incident
• Derrick Ray Henagan
• Scars, marks, piercing, & tattoos
• Clothing & accessories at time of disappearance
• Missing-person poster
• $2,000 reward for information

The design, maintenance, and hosting of this Web site are provided as a free, public service of Michigan Backcountry Search and Rescue (MiBSAR) of Marquette, Michigan.
---
Return to top

Derrick has not been seen since August 4, 2008, when he went missing in the Newberry area in the eastern Upper Peninsula of Michigan.
At the time of his disappearance—which is considered suspicious—he was living in a residence along North Manistique Lake Road, south of the village of McMillan and just west of East Lake.
According to witness accounts, he was last seen walking into the bush across from a neighbor's house.
He was reportedly planning on meeting a female friend at a prearranged location in the woods.
When she arrived at the location, Derrick was nowhere to be found. He has not been heard from or seen since.
---
Return to top
First name:

Derrick

Middle name:

Ray

Last name:

Henagan

Nicknames:

De, Hollywood, Dork

Missing since:

August 4, 2008

Age in 2008:

35

Date of birth:

08-19-72

Place of birth:

St. Joseph, Michigan

Race:

White

Sex:

Male

Height:

6'1'

Weight:

170 lbs

Build:

Medium

Left eye:

Brown

Right eye:

Brown

Hair:

Brown

Hair length:

Short

Facial hair:

Goatee, mustache

Facial hair color:

Dark brown

Facial hair length:

Short

Complexion:

Medium (olive; tanned)

Hometown:

Hartford

State:

Michigan

Country:

USA

2008 residence:

McMillan, Michigan
---
Return to top
Scars:

Scar on lower right side of torso from
from appendix surgery
Right thumb heavily scarred
3 fingers on right hand (index, middle,
ring) heavily scarred from being
severed and reattached
May be a scar on "Rayce + Dy" tribal
tattoo on upper left arm
4-6" scar on shin, unknown which leg

Piercings:

Left nipple pierced
Left and right ears pierced

Tattoos:

Tribal tattoo on upper right arm
Tribal tattoo on upper left arm
with words "Rayce + Dy"
5-6" wizard tattoo on left side of back

Deformities:

Fractured vertebrae in neck
Fractured & deformed index, middle,
and ring fingers on right hand
Fractured & deformed right thumb
Bone lumps near each eyebrow
Bone lump on center of rear of head

Missing organs:

Appendix

Other:

Bunions and spurs on both big toes
Callouses and spurs on both heels

Note:

Right and left are as viewed from
victim's position


---
Return to top
T-shirt:

Size medium, black, cotton, Monster T-shirt; sleeves cut off; green exaggerated"M" (for Monster Racing) on front left side

Underpants:

Size 33-34, elastic waistband, cotton, boxer shorts, possibly Fruit-of-the-Loom© brand

Shorts:

Size medium to large, elastic waistband, breathable nylon, knee-length, Nike© brand, basketball-style shorts

Footwear:

Size 10-11, white, Skechers© gym shoes with Skechers© logo

Socks:

Size 10-11, ankle-high, white, cotton socks

Hat:

Was not wearing his baseball cap

Jewelry:

Silver wedding-band-like ring
Unknown if piercing jewelry worn

Glasses:

Did not have newly-acquired prescription glasses on his person

Wallet:

Wallet not carried at time he went missing

Watch:

Unknown if watch worn at time he went missing

Tobacco:

Probably did not have cigarettes at time he went missing; if he had them, they would have been either Marlboro-brand cigarettes or roll-your-own Bugler-brand tobacco and rolling paper

Lighter:

BIC-brand butane lighter
---
Return to top
---
Return to top

Troopers and Detectives from the Michigan State Police post in Newberry and elsewhere are investigating the disappearance of Derrick Henagan.
A reward of up to $2,000—$1,000 from Crime Stoppers and $1,000 from Quick Bail Bonds of Jackson, Michigan—is being offered for information regarding this case.
If you have any information about what transpired during the August 4, 2008 period when Derrick went missing, have any knowledge of his current whereabouts, or have any information relevant to this investigation, please contact the Michigan State Police in Newberry at 1-906-293-5152, the toll-free and anonymous Crime Stoppers Tip Line at 1-800-465-7867, or your nearest law enforcement agency at 9-1-1.