TheRuckSack > photo-journal archive index > archive page
---
Wilderness Tripping: 18th Annual (Spring) Canadian Backpacking Expedition
Agawa Canyon & Austin Lake Mountain & Firetower
Algoma District
Wawa, Ontario, Canada
May 22-30, 2004
Austin Lake Mountain
& Fire Tower Expedition
By Gail Staisil
Midland, Michigan
Copyright 2004
E-mail author at woodswoman2001@yahoo.com
View Gail Staisil's photo album no. 1 from this trip
View Gail Staisil's photo album no. 2 from this trip
View Mary Powell's photo album from this trip
View Mary Powell's journal from this trip
View three moose sheds found on this trip
---
Return to photo-journal archive index page
Return to TheRuckSack home page
---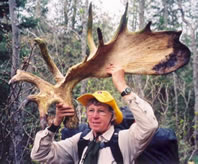 Friday
I left home amidst another thunderstorm. With so much rain falling lately in the Saginaw Valley, I hoped to see the sun shine. By the time I drove a mere thirty miles west, the skies were clearing.
My destination for today would be Batchawana Bay in Ontario. I would stay there for the night, at the Voyager's Lodge in anticipation of starting a backpacking journey tomorrow in the Agawa Canyon.
The Voyager's Restaurant was also to be the appointed place of our group breakfast, where I would unite with other members of the group. They included Michael, Mary, Mary Ann, and Chris.
I have traveled with all of them before so new introductions will not be needed.
Saturday
My night's stay went well and I was anxious to start the trip. Everyone was prompt for the breakfast and they were eager as well. Michael finished annotating maps and we all posed by the murals of voyagers based on the works of Frances Anne Hopkins, a famous, 19th-Century Canadian painter. The present murals were reproduced by an artist friend of the restaurant owner.
The original mural, as well as the replica, feature Ms. Hopkins and her husband plus other voyagers in a nine to ten meter fur trader vessel called a "Bastard" Canoe. The name derives from the fact that this canoe was a hybrid of sorts--a combination of a larger Montreal canoe and a smaller North canoe.
We departed from the restaurant with the intention of stopping at the Agawa Bay Trading Post. Chris needed to get a fishing license for the trip and most of us studied maps in the store and bought a few items. We tried on fur hats. I especially was fond of a lynx hat with a $450 price tag (Yowser!!)...Mary Ann tried on a neat wolverine hat...these were fun moments good for a few laughs and photos.
First on the agenda was getting ourselves to Frater where we would board the Algoma Central Railway train. The road to Frater gets worse every year and is truly a 4WD paradise. The leaves in the Algoma area are just starting to pop and I viewed Trout Lily blooming as I ventured into the canyon.
We waited in an abandoned shack for the train, out of the rain, at Frater. We met some interesting people who were headed out on journeys of their own. While there were no other backpackers, there were canoeists who were going to be dropped at the Sand River and others were off to their cabins which can only be reached via the tracks.
One of the fellows who worked for the Ministry was off on a solo canoe trek on the Sand River. He expressed interest in our trips and it's likely that we will see him again as he was acquainted with friends of our resident Canadian, Mary Ann.
Once aboard the train, I met a fellow from my native area in the U.P. and it turns out that we had mutual acquaintances...it's always a small world.
We were to be dropped south of the Black Spruce River where we would start our journey. This journey already had two possible scenarios depending on how the first and second day progressed. These trips are not highly regimented but usually unfold according to a basic script that Michael lays out. In anticipation of extremely rugged terrain and difficulty in reaching the outer limits of the plan, two scripts were thought out.
There are a few cabins located along the Black Spruce River, not far from the tracks. Some of the cabin owners were also on the train and they quickly transported their huge accumulation of belongings down the simple trail that meanders for a klick or two along the river. They utilize simple one or two wheel carts that they stow near their cabins.
We stopped along the river to view the various rapids and waterfalls before we departed on a more rustic trail that was at one time maintained by the Boy Scouts. It became difficult to follow and we were left with trying to scout any slash marks on trees or any evidence of cuttings in the past. We soon resorted to bushwhacking.
As evening set in, Chris found us a spot where we all could find space to camp. As this is very untrammeled bush, such spots are often difficult to locate. We could hear the river from our chosen site.
As soon as we set up, rain set in again. It had rained periodically during the day but now it was much more persistent. Tomorrow we would try to find an old hidden road, as traveling in the heavy river-side bush was already taking its toll on traveling with heavily loaded rucks with ten days of supplies.
Sunday
We awoke to a red sky followed by a blue sky. It was a welcome change as the rain ended during the night. We hand-railed the river a short ways and came to some nice rapids and a huge boulder filled riverbank. Chris tried his luck at fly fishing for trout. The rest of us explored the riverbanks and ventured out onto the large boulders in the river.
We rejoined Chris and then ascended a steep ridge. We switch-backed up through the steep terrain and headed due east to find the elusive road. Our azimuth took us to an un-named lake where we explored the shoreline. We found some really neat areas so we took a break there. Many of these Canadian lakes are un-named in the vast wilderness. It is such a contrast to Michigan where the majority of lakes are well utilized and have names.
We moved on again and ascended another steep slope, although this one wasn't as high. Chris asked me if we always did a lot of climbing on these Algoma area trips, and I commented that usually we do some, but not a lot. (This of course turned out to be a trip where we did a lot!!)
Shortly after the ascent, we found the old road. It was in good shape, probably an old logging road. It had obviously been brushed by local cabin fishermen. We followed the old road and took the necessary diversions to get to our destination for the night. Along the way, we watched a spruce grouse eating buds in a tree. He had his distinctive red markings. It ignored us for a long time and then flitted to another tree, which was also within view.
We camped overlooking March Lake. While we were setting up, the light rain increased in intensity. It had only been sprinkling for the last 45 minutes. The rain kept everyone in their shelter except for Mary who was visiting Michael. When the rain subsided, I decided to hang my food bags and venture further for a walk...everyone else was busy in their shelters.
Monday
It was still raining when I awoke. There didn't seem to be a hurry to go anywhere. We left camp around 9 AM with an immediate bushwhack towards McQuillan Lake. It was wet country or swampy territory.
We took a short break when we got to the lake, then we hand-railed the lake heading east where our destination would be a small un-named lake where Chris could fish.
After I consumed my lunch, I went down to the rock outcropping and watched Chris cast many times for trout. Although he was unlucky, he enjoyed himself immensely. It reminds me so much of the fishermen in my family of which there are many. The contentment lies in the act, rather than in any goal.
We crossed the inlet of the lake and headed toward the destination of the old Austin Lake Fire Tower. Mary Ann spotted a moose shed so we quickly took some pictures and examined its characteristics.
The ascent to the Fire Tower was a difficult one, but the journey was well worth the effort...luckily there was always a tree or root to hang onto making the journey more safe. The Austin Lake Fire Tower is no longer manned or utilized but is still intact except for the observation platform.
The views at the tower base were splendid in every direction. We decided to camp at the top of this hill beforehand so we had lugged extra water with us so we could spend the night there. I bivied slightly below the hilltop to eliminate the strong winds.
Tuesday
I had a good night, I just woke up once and noticed that some stars were out. Morning came early and I was up at 6 AM. Shortly after, I heard the others retrieving their food bags from the fire tower. The noise echoed loudly in the silent air.
We decided to leave camp early and head to Austin Lake. The northeastern descent route was much easier than the steeper western ascent yesterday. Michael quickly found another moose shed:)
We left Chris to fish on a beaver dam, on a small lake before Austin Lake. We would go the long way and explore the shoreline before meeting up with him again.
Michael was interested in locating any evidence of an old cabin on Austin Lake, as that is probably where the fire watchers stayed. As we scouted the shoreline, Michael noticed an old can and some unusual holes. He started to dig and retrieved all sorts of old cans from butter, tobacco and more.
While the others were observing and finding the old cans, I decided to further explore the area. I found an old small bed frame, a two-handle pot and cups, bottles and a huge old stove. Mary later found an outhouse! Mary Ann and Michael found more cook pots, tile, and much more. No buildings remained. We speculated that the fire crew was probably brought in by float plane as no evidence of roads or trails remained to this site.
We took a long time for exploration so we thought we better shoot an azimuth through the forest to the other section of the lake where Chris would be. We witnessed much old growth in this area all over the place. The pines were huge!
Chris was waiting for us to arrive, but happily fishing with the extra time. We joined him for a late lunch and then decided to head to another lake for camp.
Most of us camped on a rock outcropping. Rain fell heavily while we were setting up, but subsided to a mist for most of the evening. It was a pleasant spot with an outstanding view of the lake. During the evening a beaver buzzed back and forth in the water questioning our presence. We could hear it all night long slapping its tail as if to warn us to stay away. Chris was bivied on the waters edge below us, so he was very alert to its presence.
Wednesday
Morning came and the skies were gray. The sun broke through and the clouds started to dissipate. It was windy and chilly as we hand-railed the lake and crossed its inlet. The underbrush was at times almost impenetrable. We climbed the contours to a view over Roderic Lake, it was gorgeous.
We heard a seaplane but didn't see it. We were high on the cliffs but bushwhacked down to a bog area to get water. The carnivorous Pitcher plants were abundant. Chris decided to fish as Mary had noticed two small fish when she went to get water. It was a floating bog so in getting to the shoreline, one had to sink over the top of the boots. Mary at one time sank to her knees and as she was already wet, she explored further down the shore.
At lunch, we decided not to make it an arduous day as the sun was out and it was so nice! We bushwhacked through a draw to a closer lake. This was Joki Lake. We circumnavigated the lake to find an outstanding outcropping. We all camped near the edge to take in the view.
We all finally had a chance to get a quick dip and hair cleaning in, with the sun out for the first real time. It made me feel so much better. We had a relaxing evening with a beautiful view. Chris fished again and at least saw a fish, but didn't get any.
Thursday
A beautiful sunrise greeted the morning, it looked to be a beauty of a day.
After breakfast we packed up with the winds picking up and it started to rain before we left camp...good thing we get up early as sometime this is the best weather of the day :)
We bushwhacked to the end of the lake and then figured an azimuth to hit another lake. Michael was taking a parallel route higher on the ridge than we were. After awhile, it became apparent that he wasn't to be seen. Chris had just questioned if we knew were Michael was, and I had just commented to Mary Ann that I heard two odd sounds a couple of times. They sounded like they came from a bird and since I am not real good at bird calls, I brushed it off as something I didn't know.
At this point, we weren't worried about Michael as he often wanders on a separate course than the rest of us. We then decided that maybe these two facts needed to be hooked together and we started calling for Michael. Eventually he responded and wondered where we were.
He had come to a point where there were three valleys and he wasn't sure which one we had taken so we were truly separated. (The bird sounds were actually his whistle but with the windy conditions, they sounded nothing like a whistle.)
After everyone reunited, we shortly discovered that something was wrong with the azimuth. All of our compasses pointed to a direction that we didn't want to be going. After much contemplation as to what could be wrong, Chris took out his GPS to confirm where we were.
We usually carry a GPS but only use it as a back-up device, as we prefer using the traditional method of compass and map. After investigating the black and white 1:20,000 maps that Michael carried, we realized that there was an additional small lake that we had overlooked. Most of our Canadian maps that we all carry are 1:50,000 so the more detailed maps give much more detail. Not too much harm was done so we corrected our azimuth and headed out over a convenient beaver dam to align our next objective.
We needed to climb six contours to get to a named river and lake. On the way, Michael was rewarded with finding another moose shed (now 3 total for the trip). Mary and Michael flushed a partridge and we discovered its nest full with eggs as we carefully walked by. We were heading for the outlet of the river but had difficulty finding a route around the cliff walls.
Michael found a way to get down but we had to belly crawl a section that was a narrow shelf with Michael and Chris holding a horizontal limb against the edge, to give us leverage. After that we lowered our packs down a steep wall and scrambled a distance to the river. We were highly rewarded with a sweet spot under some pines and cedars and made camp near the roaring river.
Mary built a fire for those who needed to get warm after a long day of rain. Both Mary and Michael had built fires in their hobo stove at lunchtime as well, as everyone was feeling the effects of the cold wet rain.
Friday
The half moon shone brightly throughout the night. It was great to have a clear cold night and a sunny morning to wake up to. As last night was a rather late one in making camp, we decided to break camp and leave at 10 AM. I actually slept until 8, two hours later than my usual on this trip.
Chris is utilizing the free time fishing on the river. Still no fish but he is happy.
Chris led us around Mobout Lake and to the inlet. There we had to wade across the inlet as the beaver dam there was incomplete :) The water flow was heavy there so the beavers probably gave up on trying to keep it intact. From there we shot a neat azimuth which would take us into a draw and eventually lead our way to more water.
We had lunch at the lake with huge outcroppings across the way. We headed or waded through the water as we needed to get to the other side...this crossing was almost waist deep on some but not a swim. There were neat rapids and two waterfalls just upstream from the crossing.
We once again headed into the boreal forest and after hitting our azimuth at a big pond, we found the remains of an old logging road. Just prior to hitting the overgrown road, Chris noticed a huge boulder of ice that had fallen from the nearby cliffs. It had taken out small trees as well as disturbing the other vegetation. It probably didn't see much sunshine, so it may be there for awhile.
The old logging road had several Y's and we continued on it as it was heading toward our destination of Saga Lake.
For much of this trip, we were in areas that had been little impacted by man. We found much old growth and no signs of roads, much uncharted territory...we were now back into a more impacted area with signs of historic logging and logging roads and smaller trees.
As we arrived at Saga Lake, we immediately spotted an old red canoe in the forest. As the trees were just sprouting leaves, it was easily seen where as later in the summer it would of been fully hidden. It lay among trees that were growing up around it. The guys pulled it out and inspected it and declared it seaworthy.
Michael made a paddle out of a Y-shaped branch and covered it with a stuff sack. Chris was anxious to try out the improvised equipment on the lake. While the rest of us set up camp among tamaracks and cedars, Chris launched the boat to fish.
Not far from camp, I found another trap that was nailed to a tree. It had a wood box around it and was covered with fresh evergreens from last fall. We had first noticed traps on the second day of the trip near March Lake. They were used to catch pine martens.
Saturday
Last night reached a low of 26 degrees. We've had several frosty nights, but we were comfortable with our insulated wear that we always carry on these journeys, at this time of year.
Today we would follow the old roads back to civilization. These roads are utilized seasonally by cabin owners on the other side of the Agawa River. At this time of year, the river is too deep to cross with vehicles or ATVS so we were most likely the only people around. We were east of the train tracks and river, so tomorrow we will have to swim across.
During the day the old road crossed many creeks and we had to don our river shoes many times as the water was way over boot top. Other times we could simply hop rocks across.
We were rewarded with seeing two bears today in different locations. The first bear was absolutely huge and then we spotted a medium size bear a couple of klicks later. The later looked at us for quite some time as if to wonder what kind of creatures we were, before it escaped into the bush. It was an exciting moment for all, as some of our group had never seen a bear in the wilds before.
We utilized an old patchwork bridge at one point today on Eleven Mile Creek. It had been repaired many times and was supported by massive timbers.
A few klicks from the Agawa River, we came to a Y intersection that was decked out in a sign. This is highly unusual to say the least. The sign was apparently erected to honor a trapper that lived for years in the area. It was signed the "Bill Olar Trail." Michael knew of his history and it was a neat memorial complete with a trap hanging from the sign.
We arrived at the Agawa River and set up camp on the east shore near Eton. It is near the old Spooner place, a fellow that was quite colorful. It is also the site of an old timber bridge that once spanned the river.
Although our journey course changed much throughout this trip, we experienced far more than expected. We saw no one on our entire journey and the only reminder of current civilization was an occasional seaplane that was probably headed to a remote lodge.
Early in the evening, several of us tested the river by plunging in for a short bit...a very short bit. Tomorrow we have to swim the river but that's a different story, as that is a necessity.
Mary Ann was not too excited about the river crossing tomorrow. We relayed tales of Spooner (he lived in a nearby cabin) who drowned in the river while crossing. He had an artificial leg as a result of a railroad accident. The leg was never found so we suggested that she might find it when we crossed...kind of like a ghost story, I guess :)
We had a great campsite along the sandy shore of the Agawa. The three-quarter moon shone brightly during the night before it slid over the treetops across the river.
Sunday
It had been another cold night but we had plenty of time in the morning to get acclimatized, as the sun warmed us before we had to swim the river. We packed up our camp, dried gear in the sun and read to pass the time. We planned to swim the river at 11 AM, that would give us much time before our train stop at 1:40 PM.
We headed to the river and prepared to cross. All of our belongings were neatly bundled in waterproof tarps and we rolled up our foam sleeping pads to use as a flotation device if needed.
As we were getting ready, Mary relayed to me that she always has some apprehensions about river crossings going without difficulties for the group. It would be the first full river swim for Mary Ann and although she was a bit worried, she had adequately prepared.
Michael crossed first to check out the current. Mary Ann and Chris followed aiming more upstream than Michael due to the swift current that Michael had noted. Mary and I followed as the others were now across.
Mary still had on her bug net as the black flies were irritating. She decided to remove it and lost ground and was soon headed further down the river. She asked for help with her pack, so Chris dove back in and retrieved her pack.
The lesson was not to be forgotten, the few seconds of adjustment caused a loss of ground. Although the banks of the river were accessible further downstream and the situation was not critical, it is something to keep in mind when there is sometimes a target that has to be hit such as an outcropping near a cliff etc.
The water temperature was a crisp 54 degrees but didn't feel bad as the air temp was similar.
After crossing, we meandered changing our clothes, as the sun felt good and we were used to the colder temps. With the advent of a logging operation at work at a siding nearby, we quickly fast forwarded our changing status when we heard a truck coming down the railroad tracks. Mary and Mary Ann were not quick enough, so we teased them about their predicament.
Shortly after, an ATV-er came by from a local camp to inquire about our journey. Michael had a lot of questions for him regarding possibilities for future trips. The cabin owner was among many who leased land from what was formerly railroad land...unfortunately, a big logging developer bought the two townships of railroad land and they were now at the mercy of the developer. In order to keep their lease, they had to not be too vocal on their opinion of what was happening around them. Some that were, had been given 30-day eviction notices.
Cabin owners were divided in their attitudes. As we waited with some along the tracks waiting for the train, we heard more opinions. Some thought that the clear-cutting and building of roads would give them better access to fishing. Of course, this would be worse for the trappers.
The ACR was somewhat late but not bad. We boarded the freight car and proceeded to the end of the train to hang out in back. I met a couple who were traveling the whole length of the tracks from the Soo to Hearst (296 miles one-way) and back, they were enthralled with the experience. Dallas, TX residents, they had researched for such an experience on one of the few remaining flag-stop trains anywhere.
We departed the train at Frater and returned to navigate once again the rough road that would bring us back to Highway 17. We stopped at the Northgate Center to have lunch. While there I noticed a huge book on the BUGS of Canada. There were only two varieties--black-flies and mosquitoes--that were of any concern on this trip. Overall with the cooler temps, the infestation of bugs wasn't as bad as usual for this time of year. The majority of problems were experienced on the last two days when the daytime temperatures were higher.
We all went our separate ways: Chris and Mary went back to the Lower Peninsula, Mary Ann to the Canadian Soo and Michael and I to the Upper Peninsula where I would visit my family. It won't be long before we'll travel together again.
I headed back over the International Bridge. Customs drilled me more than usual--I suppose they don't run into very many people that bushwhack the canyon. Most who travel there are cabin owners or fisherman or tour train spectators. I finally was released to venture on my way to the Keweenaw.
_______________
E-mail author at woodswoman2001@yahoo.com
View Gail Staisil's photo album no. 1 from this trip
View Gail Staisil's photo album no. 2 from this trip
View Mary Powell's photo album from this trip
View Mary Powell's journal from this trip
View three moose sheds found on this trip
Read another photo-journal.
---
Return to TheRuckSack home page
In God's wilderness lies the hope of the world,
the great, fresh, unblighted, unredeemed wilderness.
— John Muir 1838-1914, Alaska Wilderness, 1890
Content Copyright © 1984-2004 by Michael A. Neiger
All rights reserved. Comments? Suggestions? Dead links? Inaccurate info?
Contact the WebMaster at mneiger@hotmail.com
A MacroMedia DreamWeaver 4 and Fireworks 4 production