Description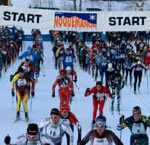 The start line at Km 50.0 (0.0, 1,461 feet) is located at the Al Quaal Recreation Area in Ishpeming, Michigan. Parking is available.
From the start line, racers will ski down to Teal Lake at Km 49.2 (0.8, 1,367 feet) before making a very steep ascent of nearly 200 feet into the Al Quaal hills.
Once atop the Teal Lake Escarpment at Km 48.9 (1.1, 1,552 feet)--the section's highest elevation point--racers will be rewarded with a nice view of Teal Lake.
Even though they've only skied about 1,100 meters, racers will have already skied through small portions of three political jurisdictions: the start line is in the City of Ishpeming, Teal Lake is in the City of Negaunee, and the current vantage point is in Ishpeming Township.
As they reach the opposite side of the ridge at Km 48.6 (1.4, 1,542 feet) Deer Lake will come into view.
A series of technical downhill sections challenge racers before they arrive at the shore of Deer Lake at Km 46.7 (3.3, 1,388 feet). Jagged, granite bluffs greet racers as they make the 500-meter ice crossing. Racers leave the lake at the Deer Lake Outlet Spillway at Km 46.3 (3.7, 1,390 feet). Water exiting the lake at this point winds it way down to Lake Superior via the Carp River.
From the spillway, the racecourse winds its way though gentle pine and balsam forests. The small, unnamed pond on trail right at Km 45.6 (4.4, 1,332 feet) marks the section's lowest elevation point.
After a gently climb up a draw, racers arrive at Aid Station No. 1 (Deer Lake Road) at Km 44.4 (5.6, 1,427 feet). This aid station is situated about 300 meters east of Deer Lake Road. No parking is available.
Click here to read about Trail Section No. 2.