| | |
| --- | --- |
| Start point: | Km 9.7 (40.3)—Aid Station No. 6, Forestville Road, 931' |
| End point: | Km 4.3 (45.7)—Aid Station No. 7, 644' |
| Length: | 5.4 km |
---
Elevation Data

Ascending:
+0 feet
Descending:
-291 feet
Change:
-291 feet
Minimum:
644 feet
Maximum:
931 feet
---
Description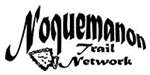 Aid Station No. 6 (Forestville Road) at Km 9.7 (40.3, 931 feet) is located adjacent to the Noquemanon Trail Networks' Forestville Trailhead Facility, which is situated about a kilometer northwest of the point where the Forestville Road crosses the Lake Superior and Ishpeming (LS&I) Railroad tracks. Parking is available.
From the aid station, the section's highest elevation point, racers will ski a short distance before crossing Forestville Road at Km 8.9 (41.1, 872 feet).
As racers reach the Three Lake area, they'll cross the tracks of the Lake Superior and Ishpeming (LS&I) Railroad twice, once just west of the lakes at Km 8.1 (41.9, 829 feet) and once just east of the lakes at Km 7.3 (42.7, 802 feet).
Once clear of the Three Lakes area, racers will ski along the north side of the LS&I tracks for 2.0 km before crossing them one final time at Km 5.3 (44.7, 702 feet).
Another short ski will bring racers to Aid Station No. 7 (Dead River), the section's lowest elevation point, at Km 4.3 (45.7, 644 feet), which is located about 300 meters southwest of County Road 550, the Big Bay Road. Parking is available.
Click here to read about Trail Section No. 8.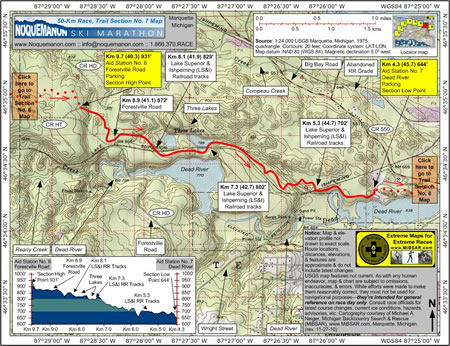 Click here or on map above for high-resolution,
1:24,000-based, USGS imagery of Trail Section No. 7.


Notice:
The maps and elevation profile charts are not drawn to exact scale. Route locations, distances, elevations, features, statistics, and descriptions are approximate, and do not include the latest changes or reroutes. USGS base map features are not current. As with any human endeavor, this map and chart are subject to omissions, inaccuracies, and errors. While efforts were made to make them reasonably correct, they must not be used for navigational purposes—they are intended for general reference on race day only. Consult race officials for the latest course changes and reroutes as well as current ice conditions, hazards, advisories, etc.

Web page design, hosting, & cartography courtesy of Michael A. Neiger of Michigan Backcountry Search and Rescue (MiBSAR), www.MiBSAR.com, in Marquette, Michigan.

Michael welcomes your comments and suggestions on how to improve the maps, charts, and information on this Web page at mneiger@hotmail.com.