Description
Aid Station No. 7 (Dead River) at Km 4.3 (45.7, 644 feet) is located about 300 meters southwest of County Road 550, the Big Bay Road. Parking is available.
From the aid station, racers quickly climb to the section's highest elevation point at Km 4.1 (45.9, 667 feet).
Almost immediately upon descending, racers leave Marquette Township to enter the City of Marquette.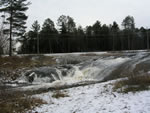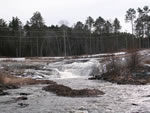 The 30-foot Dead River Falls. (© 2010 by Michael Neiger)
From the city limits, racers will ski another kilometer along the north bank of the Dead River before coming to the 30-foot-high Dead River Falls.
Once at the falls, they'll cross under the new County Road 550 bridge over the Dead River at Km 3.1 (46.9, 612 feet). The river is then crossed via an old, abandoned highway bridge immediately adjacent to the north side of the current bridge.
From the Dead River Bridge, racers ski along the south bank of the Dead River until they cross Powder Mill Road at Km 2.4 (47.6, 616 feet). A short distance further and they emerge from the woods onto an old abandoned railroad grade at Km 1.9 (48.1, 611 feet).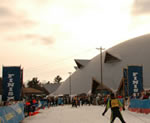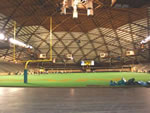 The finish line at Northern Michigan University's Superior Dome. Click here to view real-time image from Dome's stadium floor webcam.
Skiing east along this grade, racers will cross Schneider Mill Road at Km 1.7 (48.3, 610 feet) before crossing Hawley Street at Km 1.3 (48.7, 607 feet), the section's lowest elevation point.
Still skiing along the grade, racers have only to cross Wright Street at Km 0.6 (49.4, 610 feet) before arriving at the Noquemanon's finish line at Northern Michigan University's Superior Dome at Km 0.0 (50.0, 610 feet).
Built in 1991, the 14-story, 16,000-person-capacity, dome encloses 5.1 acres and houses, among other things, the United States Olympic Education Center (USOEC).
Click here to return to the Map Index.