Description
Aid Station No. 5 (Bismark Creek) at Km 17.3 (32.7, 1,138 feet) is located on a plateau at the extreme, western limit of the Forestville Plains. No parking is available.
From this aid station, racers will work there way a bit north and east along the Forestville Plains as the racecourse avoids a couple of 180-foot-high, spire-like hills blocking their path eastward.
Along the way, they'll come to the section's highest elevation point at Km 16.6 (33.4, 1,162 feet).
At the 15.8 Km (34.2, 1,140 feet) point, racers will descend off the north side of the plains some as the racecourse slips around the northern-most rise.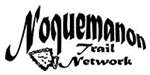 As racers reemerge back onto the Forestville Plains proper at Km 14.3 (35.7, 1,143 feet), they'll begin to see additional groomed ski trails and junction signage, all of which are part of an extensive network of trails managed by the Noquemanon Trail Network.
After 2.6 kilometers of relative flat skiing on the plains, racers will arrive at Km 11.7 (38.3, 1,116 feet) where they'll begin descending to the next aid station.
As racers cross under a power line at Km 11.1 (38.9, 1,072 feet), they'll be treated to spectacular views of Lake Superior as well as Sugarloaf Mountain to the northeast and the Northern Michigan University's Superior Dome—the finish line—to the southeast.
Just beyond the power line, racers will leave Negaunee Township and enter Marquette Township.
Aid Station No. 6 (Forestville Road) at Km 9.7 (40.3, 931 feet), the section's lowest elevation point, is located adjacent to the Noquemanon Trail Networks' Forestville Trailhead Facility, which is situated about a kilometer northwest of the point where the Forestville Road crosses the Lake Superior and Ishpeming (LS&I) Railroad tracks. Parking is available.
Click here to read about Trail Section No. 7.