---
The Ojibwas named it, "Kitchi Minis," meaning Great Island. Later, the French called it, "Les Grande Isles." And as we stood on the bay shores at Munising, looking north just a few miles off, we had to agree--it was a Grand Island.
Many Indian legends tell of the Island's conception by the Great Spirit who amused himself by dreaming up and creating monstrous giants. Fearing his latest creation would be larger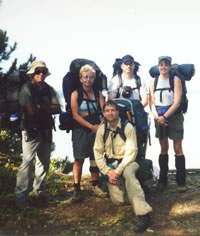 and more powerful than the artist himself, he threw down the beast before breathing life into it, leaving 3 discarded islands below in Lake Superior.
Two small islands, Williams and Wood are said to be the hands of the beast while Grand Island is its body, measuring 8 miles long, north to south, and 3 miles wide.
There have been many inhabitants and visitors on the Island, some whose artifacts date them as far back as 2,000 BC. Members of the Ojibwa Nation, as well as European and American explorers, made frequent trips to the Island to hunt, trap, fish, and trade.
Two of the more recent owners of land on the Island were the Williams family from Vermont, who built there in 1840, and the Cleveland Cliffs Iron Company, which began purchasing property on the Island in 1900 and owned it until 1990.
Currently, some parcels are privately owned, while a majority of the Island belongs to the federal government and is managed by the Forest Service as a National Recreation Area.
This was both my first trip to Grand Island as well as with the Sierra Club. I was a bit nervous, not knowing what to expect. But after meeting my riding partner, Mary in Flint, and learning about her experiences on previous trips with the club, I knew I'd have a great time.
Our trip and subsequent exploration of the Island began on a beautiful, clear day after meeting for an early breakfast at the Dog Patch Restaurant in Munising, Friday morning. After an introduction to fellow hikers Rick, John, and Dave, and direction from our fearless leader, Michael, we headed to the ferry dock near Powell Point.
Once there, we weighed our packs and then loaded them on to the waiting ferry. The trip across the West Channel to Williams Landing could not have spanned more than a half mile or taken longer than ten minutes. As we approached Murray Bay, small cabins dotted the eastern shoreline here and there.
One of the cabins on Murray Bay is currently used as the Visitor's Center and it was our first stop. Inside, we read a bit about the history and wildlife of the Island. We also got an overview of our route and itinerary, and learned that we would be crossing over the tombolo to get to the Island's thumb, our destination.
Over ten thousand years ago, before Lake Superior receded to its current depth, Grand Island was separated into 3 islands.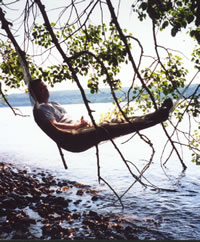 The tombolo is a very sandy and marshy strip of land now connecting the main island to its thumb.
We started out hiking on a two-track dirt road, heading north along Murray Bay. Michael pointed out remnants of the Williams Hotel, part of which was built as a family home by Abraham Williams, a resourceful pioneer, skilled blacksmith, builder, and mason.
We snacked on ripe thimbleberries along the way and stopped to look at the sunny flowers of the St. John's Wort that John, our wildflower expert, had pointed out. We could have left our food bags behind and made meals out of what we foraged on the Island.
Throughout the course of the weekend, we saw blue berries, wild rhubarb, raspberries, and SNOW PEAS! Further along, we investigated an early 1900's cottage built from roughhewn timbers that was being renovated.
Next, we explored a scattering of small caves carved out by Lake Superior thousands of years ago. Before we left Murray Bay, a small footpath took us to the Williams Family cemetery. Not much further on, a short jaunt from the trail brought us to Duck Lake, a serene haven for waterfowl.
We were ready for lunch when we reached Trout Bay Beach, and Mary was ready for a swim! The high temperatures we had been experiencing the week before our trip, which ranged between 80 and 90 degrees, continued during our trip.
The traditionally frigid water of Superior was refreshing to us whenever we happened upon it. We swam every chance we got, sometimes 3 or 4 times a day. Michael kept after us to drink one quart of water an hour, and showered us with capfuls of water on the trail to cool our heads.
After our break at Trout Bay, we bushwhacked south to Muskrat Point and Agate Island to make camp for the night near the beach. Arriving in the early afternoon, we had plenty of time to swim and wade through the water.
We even explored the carcass of an old boat. In less than two feet of water, the keel and ribs of the vessel lay open, revealing its simple construction. Several boats had anchored out in Murray Bay, and we could see their dive flags as they investigated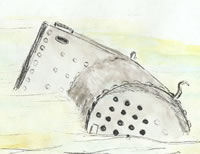 numerous other wrecks in deeper water.
Further down the beach, near Agate Island, the boiler of another sunken boat had washed up on shore. We also found a perfectly preserved, milled timber at the waters edge. It had been branded on one end with a large C and the name LOUD. Mary made a sketch of it for Michael to research later.
Dave discovered scat, most likely from an owl, that contained the bones and fur of a white mouse. On our way out of camp in the morning, we found a pile of blue-jay feathers that appeared to have been scattered about the ground during a violent struggle.
Unfortunately, the bird didn't stand a chance against whatever got to it. We did however get an opportunity to see the black-and-white-tipped, brilliant-blue feathers of the blue jay up close.
Our first task for the new day was to head to Wick Point and then on to the East Channel Lighthouse built in 1867. It was currently being restored. Private land surrounded the lighthouse, so the only way we could view it legally was to swim out along the private shoreline until we were near the lighthouse.
Dave, John and myself decided to stay back with the packs and enjoy the shade while snacking and napping. Mary, Rick, and Michael headed out to sea and returned about an hour later with pictures and tales of hoisting each other up to peer through the windows.
From the lighthouse, we bushwhacked towards Trout Point, at the northern tip of the thumb. Occasionally, we followed grown over logging roads built and used by CCI. When we reached the water once again, we found ourselves looking down at it from 100-foot-high sandstone cliffs.
From atop the cliffs, Michael spotted the portal cave he had found a year or two earlier and was excited to let us explore it. Mary found a way down to a tiny beach nearby in no time, and from there we swam around the cliffs and into the cave.
Large slabs of sandstone, which had fallen from the cliff above, laid in the water along the way. In these areas, were able to wade a ways before having to swim again. We were all thrilled to be able to swim right into the main mouth of the cave, and then back out by way of one of two smaller portals.

While swimming, one of my toe rings slipped off and remains on the bottom of Lake Superior to this day. Michael teased me and announced the cave would now be named Toe Ring.
That evening, we camped nearby, very close to another set of caves. However, these were old, dry caves situated along the top of the 100-foot sandstone cliffs.
Michael had named one of the caves Lantern Cave since he had found an old railroad lantern in it a couple years ago. He set up his bivy in one of the caves well back from cliff's edge (the next morning, he commented about how damp the cave was).
Before calling it a night, we enjoyed dinner on a ledge about half way down the cliff wall. By attaching a rope to Michael's little cooking pot, we were able to dip and hoist up all the water we needed. From time to time, passing boaters thought we were somehow stranded and stopped to offer help. Others simply inquired as to how we managed to get where we were.
Sunday morning, we pulled out of camp early and bushwhacked our way to the two-track that took us back to Trout Bay. We reached the beach around 10:30 a.m. and jumped into the water as the heat had already reached 80 degrees, according to John's thermometer.
Mary, Rick, and I swam out and around the cliffs to Platter Rock, a large sandstone slab protruding from the water just off shore. When we pulled ourselves up onto it, we discovered a round indentation on the surface that someone had used as a fire pit. Unfortunately, others had desecrated the rock by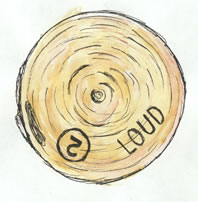 carving their names into the soft surface.
After our swim, we doubled back to Williams Landing on the same trail we hiked along on our first day. Once back at the landing, we swam in the cool water again while waiting for the ferry to pick us up and take us back to our vehicles in Munising.
All my worries about the trip were for naught. This was the best hiking trip I'd ever been on. Backpacking with people who were knowledgeable about so much of the Island's history, wildlife, and flowers added so much more than I could have experienced on my own. I'll be back for more trips with the Sierra Club!