Thirty inches of snow fell on some parts of the UP in the week before our trip. The forecast for the weekend was constantly changing. Michael, our trip leader, told us to bring lots of layers and snowshoes just in case. John H. wondered aloud if, having had a year of very reasonable weather for our trips, this would be our time to be tested.
Apparently, however, our number wasn't up: the weekend turned out partly sunny with daytime temperatures in the 60's and nighttime temperatures dipping into the 30's. Awesome weather for so late in the fall!
It was an experienced group of hikers that assembled Saturday morning at the Pigeon River State Forest Campground--eight fugitives from civilization seeking a weekend of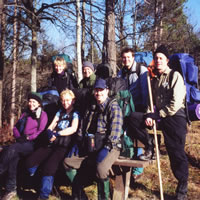 enjoyable outdoor exercise and relaxation.
After a somewhat lengthy shuttle of vehicles (and a bit of joking about whether we were actually going to hike that day or put it off 'til the next) we began with an easy on-trail segment going south and then east along the High Country Pathway (HCP).
Clouds came and went as we walked. The sun warmed us a bit, though being near winter solstice, it stayed low in the southern sky. Around 4 PM it became apparent that there wasn't much daylight left. We decided to bushwhack over to Hardwood Creek and find a sheltered spot with accessible water.
This turned out to be a decision to camp in a cedar swamp. As darkness fell we spread out along the creek looking for non-soggy, reasonably flat areas big enough to sleep on. Accessible water was definitely not a problem. After the evening meal, some chose to sleep, while others read or chatted before turning in.
We rose with the sun--which is to say, not very early at all. There were a few clouds at first but the sky cleared rapidly. We bushwhacked a little more than a klick (a kilometer) through mixed pine and hardwood forest to pick up the HCP again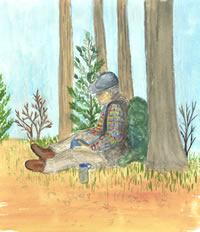 as it ascended a long, steep hill to the site of an old fire tower.
Some of us joked about the signage we encountered. In several places there were cleared areas with benches overlooking awesome vistas. At each one, there was a "scenic overlook" sign--as if the overlook might somehow be missed without it.
We passed several more spots where the distant hills and intervening valleys came into view. Dave pointed out that we were probably mistaken in thinking that these views were scenic since they were not signed as such. At the site of the old fire tower, we took a break and enjoyed the sunshine and the nice view.
Another hour of hiking brought us to the sound of water dropping over an obstruction--in this case, probably a beaver dam as the river had spread beyond its banks and into the trees.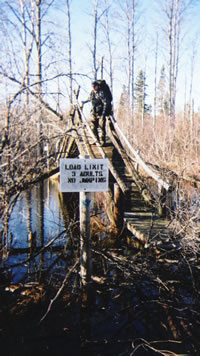 Rounding a turn in the trail, we found a very worn and rustic bridge with a cautionary sign: "Load limit three adults--no jumping."
This led to a discussion as to whether that meant no jumping on the bridge or no jumping off of it. We also questioned whether it meant three adults with packs or without? We decided three was too many either way and tackled it one at a time, balancing on submerged branches to reach the approach and climbing over a fallen tree midway across it.
Reaching the far side safely, we hiked a bit further and found an open area overlooking the river that made an ideal lunch spot.
Afternoon found us crossing a series of ridges and their intervening valleys. On the topo map, blues lines tracing several of these valleys meant we would be able to replenish our dwindling water supplies. Our plan was to pick up water, drop Gail off at her car (she had to be back to work on Monday) and then find a spot to camp in the hills ahead.
However, we found only jeep trails where the creeks--apparently seasonal ones--were supposed to be. We quickly considered a number of alternatives as the sun sank toward the distant tree line. We settled on "plan F" (or maybe it was "G"). We would find a place to bivouac and while the rest of us set up camp, Michael would walk with Gail to her car to replenish our water supply.
As night closed in, one of the many clearings created in the woods to allow the elk to forage became our bivouac spot.
While most of us set up our shelters along the tree line, Craig found an ideal spot for his "Megamid" near the center of the flat grassy field. With the absence of snow, the field's plowed, gravelly edge provided a rare opportunity to have a safe, no-trace campfire. We were soon gathering wood for that purpose.
After Michael returned with water, most of us spent the evening enjoying dinner and conversing around the fire. We were treated to a full moon rising amidst scudding clouds. There was enough moonlight to permit a stroll in the woods before retiring--no headlamp needed.
Breaking camp in the early morning chill was accompanied by comments like, "Could be worse, I could be stuck in traffic . . . or worse yet, already at work!" Another hiker quipped, "What with the moon shining, the coyotes howling, and the birds chirping, it's a wonder anyone can sleep out here!"
With only a couple of hours between the cars and us, we decided on a side trip to scope out the potential of a couple of high ridges for places to camp in the future. We climbed a high ridge that we dubbed "Eagle Ridge" for the eagle we saw soaring about, white head and tail flashing in the sun.
With its thick cushion of pine needles and panoramic view of the surrounding hills, we all agreed it would make an excellent place to camp on our next trip. It was all downhill after Eagle Ridge. Shortly after noon, another good trip came to an end as we arrived at Michael's car.