After assembling around 9 a.m. Friday and spotting our vehicles, the six of us enjoyed an easy on-trail hike through a mostly beech-maple forest. Long stretches of the trail were bordered by mounds of lichen. Other areas were decorated with wintergreen and rust-colored bunchberry leaves. In some locations, we passed delicate yellow-orange tamaracks standing among dark green pines. We ended up stopping for lunch at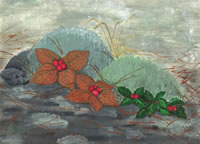 a very scenic spot near Guard Lake.
After lunch we opted for some exploring and bushwhacked over a hill and into a draw that, at least on the topo map, appeared to be an interesting spot to camp. Not so! Swamp and more swamp. After the long bushwhack, I noticed my socks were "fuzzy" with hitchhikers. Thousands of seeds had attached themselves to my socks.
We switched to plan B and followed azimuths and old two-tracks to the confluence of the Chub Creek and a small unnamed stream. There we found an excellent bivouac spot on an old railroad grade surrounded by the sounds of flowing water.
While the rest of us set up camp just after 5 p.m., Michael ate his supper quickly and then ventured into the darkness to meet two members of the group who had been unable to come up in the morning.
About three hours later, he reappeared with Gail and John C., their headlamps bobbing in the darkness like so many one-eyed aliens. They were waiting for him, just like they said they would, on a back road several miles west of our bivouac location.
While Michael indicated that the night navigation involved in the hookup was an interesting exercise, he didn't plan to make a habit of picking up hikers that way in the future.
During the still night, I took in the soothing sounds of water trickling over a distant beaver dam and then gurgling by me in an adjacent creek. Later, drops of water fell softly on my tarp.
Gail later recalled that bivouacking in the darkness turned out to be very fascinating for her. "Setting up my tarp in the dark," she commented, and then "finding out in the morning of the wondrous location (the spatial arrangement seemed so different the night before)."
Saturday morning seemed a long time coming according to John H. "The [winter] sun sets early and rises late," he said. "Too many hours in the sack!" After a hearty breakfast, the eight of us began the day by bushwhacking up the east side of Maple Hill in search of a long, 50- to 100-foot-high cliff.
Once we located the cliff, we worked our way along it, exploring several small caves, arches, and outcroppings as we discovered them. With his extensive knowledge of the local geology, John C. said, "the geology of Michigan is like a stack of cereal bowls; depressed in the middle because the area was once beneath a sea. Some of the layers of rock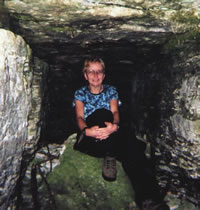 that make the 'edges' of the 'bowls' are more resistant to erosion than others and this cliff is one of those."
He went on to say that the cliff was "composed of dolomite which is calcium/magnesium carbonate--more durable than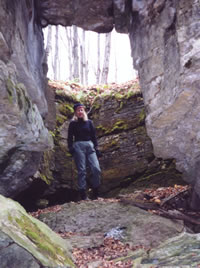 sandstone like the cliffs at Pictured Rocks." John also noted that this same dolomite ridge "extends west into Wisconsin and east into New York where the Niagara River falls over it--it's called the Niagara Escarpment."
Not far from the cliff, we got back on the NCT and continued hiking northward, along Little Bear Creek. Eventually, we stopped for a relaxing lunch at an old beaver dam. It turned out to be a very scenic spot. As the afternoon progressed, we found ourselves hiking through several red pine plantations, each carpeted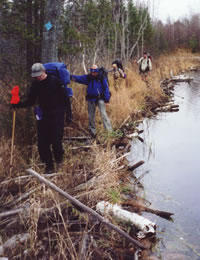 with a soft layer of needles. In other areas along the trail, crystal clear puddles were lined with a collage of different colored leaves: yellow near the birches, red or gold under the maples, and brown around the oaks.
As nightfall approached, we each selected a spot to bed down for the night in a pine plantation along Biscuit Creek. The man-made furrows in the ground cradled our tired bodies. With their thick layer of pine needles, these spots were as soft as any mattress. What a comfortable place to camp!
During the night, I awoke to a woods silvery with moonlight. Unfortunately, I also awoke to what seemed to be a pack of dogs howling in the distance. They must have become separated from their handler and abandoned for the night, possibly with an animal treed.
As the sun rose early Sunday morning, all that remained of the trip was a few hours of pleasant hiking through more pine plantations. We ate lunch at one several picturesque creeks that we crossed along the way.
When we reached the vehicles, everyone seemed to experience the same feeling. "Is it over already?" we wondered. "Where did the weekend go?"
_____________________
"The dolomite rock formations, the beautiful green patterns in the lake where we met the hunters [Trout Lake Pond] and the beaver dam lunch where I finally mastered the bowline with the patience of Michael."
-- Gail Staisil, Midland, an experienced long-distance solo backpacker, on what she remembered most about the trip.

"I thought the trip was just outstanding! It was my first backpack on the NCT and I truly enjoyed the landscape: Pine Creek, Biscuit Creek, the white cedar swamps and the incredibly nice weather. Mike is a great leader and prepares participants well with ample information beforehand. His off trail, cross country, using map and compass experiences were fun and educational--a nice diversion from simple trail hiking."
-- Jeff Knoop, Marquette, a national trip leader with the Sierra Club, on his impressions of his first wilderness trip with the Central Upper Peninsula Group.

"What I like about our trips is the element of surprise and adventure. We have a start point and an end point, but what can happen in between really 'makes' the trip. A section cut through the bush, a long ago abandoned railroad, historical artifacts discovered, escarpments and caves, clear streams and varied bivouacs at night. . . . I would be remiss if I didn't mention my fellow travelers. It is a pleasure to be in the company of such enthusiastic explorers and hikers. Every trip we take I make new friends, acquire new knowledge and learn more bush skills. I especially enjoy sitting together over our meals."
-- John Herrgott, Linden, an accomplished astronomer and SEMG trip leader, on why he ventures off the trail with the CUP group.

"Just sitting and fishing in some of those streams would be enjoyable--shallow swiftly moving currents, water cold enough to numb your toes, even tinted with tannin, clear enough to see the gravel on the bottom. Water was meant to be followed, not just crossed over and forgotten. . . .rivers are full of possibilities. It's always about possibilities. That is what a highlight of any trip should be."
-- David Wiltse, Royal Oak, our resident scatologist and avid orienteerer, on the joys of moving water: rivers, streams, and creeks.

"I was pleasantly surprised by how much I liked the NCT. For a weekend trip I could not ask for much more than an extensive dolomite rock outcrop that formed a cliff face, walking a day straight through pine forests, and being visited by a sandhill crane perching atop a pine tree while I was setting my bear hang."
-- John Calandra, Clarkston, a national trip leader with the Sierra Club and professional geologist, on the North Country Trail as a weekend destination.