---
An introduction by Mary Powell
The Lake Superior Provincial Park Coastal Trail winds for approximately 55 kilometers along the Canadian shoreline at the eastern end of Lake Superior. It traverses rugged country with numerous, unusual rock formations and enchanting coves.
It challenges the hiker with frequent, marked elevation changes, twisting, sometimes swampy, forest trails, and long stretches of talus or cobble rock. It rewards those who persevere with awesome vistas and sheltered beaches.
Our plan for this trip was to hike the section of this trail from Chalfont Cove south to the Coldwater River--about 35 km. Not being particularly fond of trails, our trip leader, Michael Neiger of Marquette, added three days of bushwhacking to the beginning of the trip just to make sure it would be interesting.
Over the first three days, we planned to hike from Gargantua Road, near Grangousier Hill, to the vicinity of Ryan's Point on Lake Superior. Once at the shoreline, we planned to hike down the coast to Chalfont Cove, the remote northern terminus of the coastal trail.
Michael, Sue Schenk-Drobny of Marquette, and myself were to meet Gail Staisil of Midland at Chalfont cove where she would join us for several days of hiking.
Sue's journal entry
We started our trip with breakfast at a local diner, then took off on Canada Highway 17 to spot the two cars. At the "bushwhack-head" (as opposed to "trail-head"), we piled out of the second car and Mary brought out a cooler full of brownies, Haagen-Dazs ice cream, and chocolate fudge topping in celebration of Michael's recent retirement (just two days prior). Side note: congratulations, Mayor!
Anyway, we hogged down on this spectacular post-breakfast dessert and went into the woods smilin'. We got onto an old logging trail that was overgrown down to one lane by now. Euel Gibbons' quote was running through my head here: "...did you ever eat a pine tree? Many parts ARE edible!" I found this out, I also found out many parts are actually inedible....
Didn't take us too long to figure out why the logging trail was actually opened to one lane only....we were cruising down "Moose Highway 17." Seems as though the moose use this route to yard up further north in the winter. Mary found three antler sheds the first day and Michael one the second day. These incredibly heavy things ride around on moose craniums during the summer in this thick brush--a concept that boggled my brain.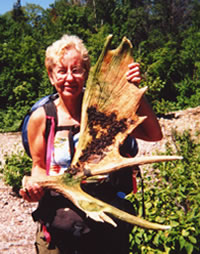 I was having a heck of a time with 47 pounds on my back, much less conceptualizing a 15 to 25 pound weight laterally placed on both sides of my head, trying to slip through the trees unseen. A picture of each antler was carefully recorded for the Web site's "Sheds 'n Skulls" page, you will want to take note and refer to that site after reading this trip journal.
Mary's journal entry
A relatively easy day for bushwhacking--there has been a more or less open trail most of the way. Mapped some great campsites for future trips. Gargantua Creek is very pretty--gravelly/rocky with many ferns, blue flags and lillies.
Finding three moose sheds is unbelievable! ...as is the idea that moose grow and then discard those huge things in one season. Saw some other interesting things too: gelatinous tubes (possibly egg cases?) anchored to some rocks in the creek, mushrooms that looked like small carved wooden bowls and loons in the lake, of course...
Startled a woodcock along the trail. Camped for the night near a long-abandoned beaver pond, now a grassy meadow. The night was utterly still, the stars very bright and the dew very heavy, almost like rain.
Sue's journal entry
The second day out, after running off Moose Highway 17 because we were aiming for the Lake, we came out north of Ryan's Cove. We hit a beautiful rock beach for our first view of Lake Superior. We were a ways north of the dead end of the trail at Chalfont Cove, where normal people often turn around and head back south.
But, we are not normal people. We would walk along, then come upon a crevasse filled with Lake Superior, and have to head inland up cliffs and rocks and through brush to get around the obstacle. Finally, we came upon a wider crevasse, looked up at the cliffs and hills, considered our knees, and decided to swim for it.
Michael struck out across first, after carefully wrapping up his pack and flinging it into the Lake. Mary went next, without a problem. I flailed along at last, finally making it over. We had rolled up our foam sleeping pads to create PFDs, which were a handy thing to have. The cold lake actually felt good, and other than a few holes in the pack covers or plastic bags covering our packs, they floated nicely, and things arrived on the other side mostly dry.
Off we hiked along the rocky shores again, until we hit an even wider crevasse. Out came the leaky pack covers, off came the boots, and one by one we crossed again, swimming a little farther this time. However, the holes in the pack covers from the first crossing seemed to have magnified exponentially by the time we swam this second crossing. The outer supplies in our packs were pretty well soaked, including my boots and socks that I had rested on the bottom of the pack.
As water, cohos and seaweed poured out of my boots, it was time to take stock of this swimming idea. On the other hand, our alternative was scaling cliffs, and at the end of the second day Mary and I were both pleading for the 800 mg ibuprofen for our aching knees!
Mary's journal entry
[Editor's note: Regarding the ibuprofen, Mary says, "'Pleading' might be a slight exaggeration. It was more like 'gratefully accepted the ibuprofen generously offered by our leader' who was probably hoping it would increase the chances that we would accompany him a while longer..."]
Bushwhacking has its questionable moments but, besides stumbling on moose sheds, "normal people" will miss the other things that make it worthwhile--things like finding a spectacular cliff face far back in the woods, the you-never-know-what's-around-the-next-corner fun of exploring where there is no trail, the feeling of success when you calculate an azimuth, pace it off, and end up where you wanted to be.
Our campsite near Ryan Point gave us a view of the sunset over Squaw Island after a brief rain dampened our dinner. On the shore were dramatic veins of red and black rock. A variety of lichens decorated them with a collage of bright orange, velvety black and lime green. After a swim (just for the fun of it) we spent a pleasant evening reading and talking.
Sue's journal entry
The third morning started off with four river otter slicing along in the Lake as we ate breakfast. They were fantastic! Nose up, nose down, tail following. Blueberries were out, red and white baneberry were out, blue-bead lilies were in the undergrowth.
At lunch we had not made much headway in woods bushwhacking, and we had to make it to Chalfont Cove to meet up with Gail at the northern terminus of the Coastal (let's go Postal) Trail. Which is why, when faced with our next set of cliffs along the Lake, Michael came up with the brilliant idea to construct a raft out of beaver poles to keep the packs dry as we walked/swam along side.
With his instruction on what size poles to start gathering from our lunch/beach area, Mary and I began stacking similar sized poles in various staging areas near the water's edge. Gathering all the rope we had, Michael spent the next half hour or so lashing the poles together.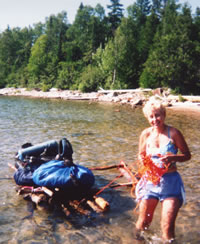 My contribution to the raft was an old tennis ball I had found washed up on the beach. I tore at the outer covering to create bangs, then drew a face on it and--voila!--Wilson! (apologies to the "Castaway" movie with Tom Hanks several years back). Popped Wilson onto the raft, hoisted up the packs, things were a little wobbly. So Michael added an outrigger to stabilize the load, and off we went.
We started wading for about 20 yards, but the water got deeper. Soon, we were all swimming along with the raft! I had my foam bed roll/PFD tucked under my chin and was dog paddling away, one arm on the raft. Tried singing for awhile to pass the time. Cue up Joe Walsh's "Theme from Boat Weirdoes." After about a half-hour, we decided a break was in order, and stopped on a rock.
The wind had picked up, and I was immediately chilled and was ordered to the bank to lay in the sun out of the wind after a chocolate bar failed to quell my quaking/shivering jaw. After somewhat warming up, we had to press on to meet Gail, the clock was ticking and there was another cove to swim past.
I stayed on the rocks while Mary and Michael alternately took turns bravely either hauling the raft with a long rope from shore or swimming with it to get it past boulders and other obstacles.
The grand entrance...
We rounded the final bend and Michael could see Gail on the far shore waiting for us to pop off the trail. Instead, what she saw was a rag-tag group with some goof-ball bellowing into a piece of black plastic tubing, what sounded like the mating call of some sick ungulate. This was Michael announcing our arrival.
We were quite a sight, I am sure. After a round of photographs to commemorate the event, we disassembled the raft. Wilson had hung on and spent the night pegged into a tree near my tarp. I forgot about him in the morning when we left camp--WILSON!!!! But it was best he stayed in Chalfont Cove to smile at some other hapless camper, rather than me carry his sorry orb on the trail ahead.
Mary's journal entry
It's been quite a while since I had that much fun! The last time I built a raft was almost half a century ago... and this one worked much better... Gail, as usual, seemed unruffled by our craziness. It was good to hear what she's been up to since our last trip together. These park-provided campsites are flatter, but they sure lack the padding of duff that you find in the bush!
Mary's journal entry
From Chalfont Cove the trail goes a short way through a wetland then climbs over rock formations to an overlook of Indian Harbour--a narrow, sheltered inlet. A small yacht was anchored there in the midst of idyllic scenery. After taking in the view awhile we followed the trail inland again across Cape Gargantua to Warp Bay. WOW!
Sheltered sandy beach, forested campsites, kayakers for company, a river to fish in and, after only walking about 4 kilometers, Michael says we have the rest of the day to relax... No problem!
After lunch I explored the shores of a number of small islands nearby, finding some interesting boating relics. After a nap, Sue took me (and a leach she had found) for a fishing lesson: first you walk a couple of kilometers to find the best available fishing hole... then get the unwilling bait on the hook....then toss it into the tangle of logs where a trout may be hanging out.... and hope it doesn't get stuck there... Our efforts did not secure dinner, but I think I have the basic idea.
After dinner Sue, Gail and I hiked a 2 kilometer side trail to see Devil's Chair--a rocky offshore island with an intriguing hole through it. It is visible from a small cove with a unique black sand beach and two brand new campsites, one of which was occupied by a young man who related for us an Indian legend regarding Devils Chair:
It seems that Devil's Chair is where Manabohzo, who is in some stories the creator of the world, landed and rested when he jumped over lake Superior after slaying the monster who now lays beneath the hills called Sleeping Giant on the north shore of the lake. Indians and kayakers sometimes still leave tobacco or gifts there seeking Manabohzo's blessing...
Mary's journal entry
Easy morning's hike with a brief diversion to see a waterfall on the Gargantua. Found the "Bridge to Nowhere" nearby. On arriving at Gargantua Bay, found all the sites were occupied and had lunch at a bush site we'd selected for the night. Hiking back to get our food cache, however, we managed to capture one that had just been vacated.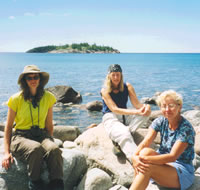 I held down the fort (rough job) while the others retrieved our gear. Then we retrieved our food cache. Dusty and tired from the back and forth trips, we went swimming and settled into our site to relax. Sue and Gail were still on the beach when a lone kayaker passed by in search of a place to spend the night...
Sue's journal entry
One night we stayed at a campsite in Gargantua Bay. Half of the campsites there are located on a beautiful sand beach, and half on rocky stuff. Really rocky. Turn your ankle rocky. Anyway, we were lucky enough to get ANY campsite, it was a very busy summer camping day at Gargantua Bay, and we were able to snag a rocky site.
I like to clean up at the end of a working walk day, in an attempt to "wash off the ticks," so usually scout out a freezing beaver pond or some other place to plunk into for a moment of whooping, exhilarating relaxation. Since the one option I could see here was to somehow force myself through crashing waves to be able to swim, and potentially get very bunged up on large rocks and big boulders, I decided to sit on a large, underwater rock about knee deep, and let some of the "gargantua" waves crash over me, sort of a "wave Jacuzzi."
So I did, getting walloped at regular intervals with screamingly cold water. Felt good! As I was yelling and whooping away, a kayaker comes paddling by and yells "do you know of any open camp sites along here?" I replied: "no, but you can fake it down on the end of the beach, before the cliffs start." So off he went.
Gail, who was also down on the beach at the time, and I watched as he approached the cliffs, and he didn't seem to be able to locate a site. He was bobbing around hopelessly, Gail and I both watching with concern, and I turned to her and said, "hey, what the heck, he's a kayaker, not an ax-murderer, do you care if he stays at our camp site tonight? Might be good for a few new stories."
She indicated she didn't mind, so we stood up and waved our arms around for him to come back. Back he came, and as he approached again, trying to jockey his boat amongst the rocks, I called out "do you have any RUM?" He grinned, and indicated no, he did not. So I tried "do you have any CHOCOLATE, then?" He skillfully made his way through the boulders to get near to shore to keep from getting his boat smashed up, looked at me and said "are you from Marquette?"
Dumbfounded, incredulous, I said "yes.....". Then he said "well, I'm the POLKA KING!"
Again, dumbfounded, my mind raced, flipping through the back files and trying to remember if I had been that BIG of a bender lately that I wouldn't remember polkaing with the Polka King.....then, I remembered! "KARL!" I yelled! "Karl, is it really you????"
It all came back. I had met Karl in February this past year, the friend of a mutual friend. Several of us had cross country skied at the Porcupine Mountains one weekend. At the end of the day, the mutual friend, who happened to be a dance instructor in Houghton, showed us a few steps of the merengue and western swing back at the cabin we were staying in, to the music from a CD player.
A polka came on, Karl was sitting back hiding in a corner, and I forced him off the couch and into the polka stance where we practiced until I figured he was good enough to send off to any wedding reception he might get invited to in South Range that spring. A fun afternoon was had by all, and all too soon both Karl and the dance instructor headed back to Houghton for some evening concert, leaving us pondering over the merengue.
At any rate, here was Karl in from the Lake! "What was your name again?" he asked (I had not apparently made THAT big of an impression on him!). I found out later while talking to him he wasn't in a kayak at all, but a "decked canoe," something new to me.
Karl is quite the accomplished canoeist, and later that evening we watched the stars come out as he recounted stories about the characters he has met while traveling in his canoe on Lake Superior for several weeks every summer. We had lots of laughs. The next morning at breakfast, he and Michael traded stories about traveling in Canadian waters, and shared equipment tips. We all enjoyed the visit from the Polka King.
Mary's journal entry
It was hard to part with Gail's company, but she had obligations and we were unable to entice her to continue.
The hike to Rhyolite Cove was rocky and rough, but short and included some awesome views. The rocks in this cove are pink, as is the gravelly sand of its beach.
On a short explore around the next point I found another cove with the same stone in strangely sculpted shapes--rounded mounds that looked like melted birthday cakes. On their sides were vertical fracture lines and chunks were easy to break off in five or six sided columns several inches in diameter. The combination of weathered rocks and geometric shapes reminded me of photos of Anasazi cliff dwellings.
The trail guide said these rocks were rhyolite...sounds like the trade name for some kind of building material... First source I looked it up in told me cryptically that it was "an extrusive metamorphic." Not too enlightening. Further investigation disclosed that this columnar rhyolite is formed when molten granite flows out on the surface and cools rapidly. The resulting rock is dull and brittle, breaking readily into angular chunks and slices and easily eroded by wind and water.
The water in Rhyolite Cove seemed colder, but we swam anyway. Shortly after our arrival there a group of teenage boys, led by a pair of somewhat worn looking counselors, occupied the other campsite. Noisy and full of energy, they seemed to have us surrounded in no time. Michael took to calling them "The Cavalry." Sue seemed more quiet than usual. After dinner we practiced firebuilding. Though the wood valiantly resisted ignition, in the end we had tea...
Mary's journal entry
The trail guide describes the stretch from Rhyolite to Beatty Cove as "a very rugged 8 kilometers." I would concur. It took a big piece of this day to cover 4 kilometers of it to Buckshot Creek. The cove there was even prettier than Rhyolite in my opinion; rocky points shielded white gravel beaches and huge crevasses hid clear water to swim in.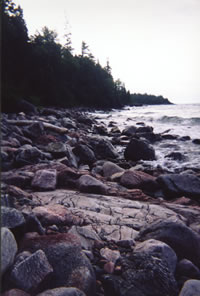 Buckshot Creek joins the lake here, adding the sound of water flowing over rapids and the possibility of fishing. "The Cavalry" arrived in a little while though, making fishing less attractive. We retreated to "our" side of the lagoon, read, relaxed and watched the resident loons and mergansers.
Sue remained somewhat subdued--concerned about how her dogs were doing with their sitter and whether her husband had survived the course on bush plane piloting he was taking in her absence. We decided that evening to quit lazing around and cut a couple days off the trip as feeling anxious is not compatible with having fun.
Mary's journal entry
Michael set a brisk pace--kept disappearing into the distance actually... We covered kilometers of those twisting forest trails and scrambled from cairn to cairn along the rocky coastline, stopping only briefly at a couple of overviews. We breezed by Beatty Cove and on to the Baldhead River. River fording was a routine operation by now.
After swimming across, pack in tow, hiked the kilometer or so of expansive curved gravel beach to a secluded campsite behind a screen of trees at the far end. Below this campsite, we found some awesome swimming opportunities. Eroded rock formations allowed us to recline in comfort and let the waves wash over us. We swam in huge crevasses where we could see jumbles of boulders 30 feet below through the clear water.
Also napped, read, cooked dinner, watched the sunset--acutely aware this was our last night in the bush.
Mary's journal entry
In the morning, a few kilometers of relatively easy hiking in and out of woods and along smaller-scale rock formations brought us to a broad sand beach at the mouth of the Coldwater River.
We swam and changed into traveling clothes, arranging the trip in our memories. We retrieved the second car, loaded our gear and headed for a farewell meal at the same restaurant where we'd started. Another fine stint in the bush....
---
Return to top of page | Return to home page
In God's wilderness lies the hope of the world,
the great, fresh, unblighted, unredeemed wilderness.
— John Muir 1838-1914, Alaska Wilderness, 1890

Content Copyright © by Michael A. Neiger
All rights reserved.
Comments? Suggestions? Dead links? Inaccurate info?
Contact the WebMaster at mneiger@hotmail.com