The backpacking trip covered Friday, Saturday, Sunday and Monday morning. Those present were: Michael Neiger (Marquette, Michigan), Aaron Cliff (Marquette, Michigan), Ed Pavwoski (Lansing, Michigan),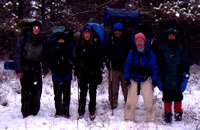 Mary Powell (Flint, Michigan), Jenelle Smith (Fenton, Michigan), Gail Staisil (Midland, Michigan), and Milton French (Detroit, Michigan).
The route
Michael was the trip leader. Mary and Gail were veterans of many trips. For Ed and Aaron this was their third trip and it was the first trip for Jenelle and Milton.
All of the group members arrived sometime Thursday night or Friday morning at the designated meeting place. We got up about 8:15 a.m. and started on the preliminaries. First we each signed a waiver and paid the $10 trip fee.
Then Michael checked the packs of the new people. First he went through Jenelle's pack and removed some unnecessary items. Then he went through Milton's pack and did the same.
After that we drove to the start area. Mary and Milton stayed there while the rest drove to the destination and left the rest of the vehicles there. When they returned we got underway about 12:15 p.m.
After some time we climbed Rattlesnake Hill and were greeted by a spectacular vista to the south, west and north. From there we hiked through hardwood forest to our lunch area in a sheltered valley.
We learned right away to immediately add layers whenever there is a stop and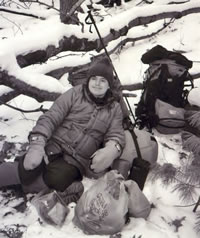 not to wait until getting chilled. After lunch we continued onward up and down hills for much of the afternoon.
Jenelle was having problems with traction since her boots did not have adequate tread on the bottom. Michael found an ingenious method of tying a rope in knots around the bottom of her boots to form a crampon.
We reached a clearing and someone spotted a porcupine. It was not frightened by us and we were able to get quite close.
We went into the woods about 100 meters for our first night's camp. By then it was close to 5 p.m. Michael, Mary and Aaron all used tarps strung up next to each other.
Ed and Gail used tarps apart from the main group. Jenelle used a tent and Milton used a tent fly.
Milton did not take into account the domed nature of the fly so it was difficult to erect upright. Michael helped Milton with his tent fly so that is didn't sag in middle.
After the night's sleeping accommodations were complete for the night, a fire was built. This was welcome since the temperature was about 15 degrees Fahrenheit.
Next the group turned their attention to getting supper. In addition to heat, the fire was used for cooking. Mary had brought some stew beef and shared some with the others.
Storage is not a problem in the winter so we were able to bring perishable food. She also cooked a delicious dessert that she also shared.
After supper we sat around the fire and talked. Around 9 p.m. we headed to our sleeping bags for the night.
About 8 a.m. Saturday morning, we got up and were pleasantly surprised by much warmer temperatures.
Aaron, Jenelle and Milton got their first exposure to melting snow for water. It takes about 10 liters of snow just to get 1 liter of water. We used the campfire to melt the snow. Purification is not necessary for snow. The fire imparted a strong smoke taste to the water.
Also there is debris in the snow which if not filtered will be in the water. The bandanna is useful for this task. The snow soaks up the water as it melts so care is needed to avoid overheating the pot.
Melting snow took much time and we did not get underway until 10 a.m. About 10 minutes after we started we stopped to give everyone a chance to strip layers.
As the trip went on we learned what to wear when starting for the day to minimize stops to add or remove layers. About every hour we would stop and give everyone time to eat and drink. As always at each stop we would immediately add a warm layer.
We made it to Pug Lakes for lunch. There was running water there so melting of snow was not necessary. However, the water had to be purified.
This is done by bringing it to a boil or using iodine. There is also a neutralizer that can be added after the iodine has done its work to mostly remove the iodine taste.
Milton was having significant pain with his backpack since it was not properly fitted. Michael worked for some time to adjust the pack and rearrange the load. With those changes he was able to finish the trip which he would not have been able to do otherwise.
After a welcome lunch we continued to our second night's camping spot. It was a beautiful spot overlooking Canada Creek to the west. We easily got all the water we needed from the stream.
There was some light snow in the evening but less than 3 centimeters accumulation. We had our usual routine of a fire, supper and talking around the fire. We turned in about 9 p.m. for the night.
Since we had made less progress that planned we got up early Sunday morning. About 6:30 a.m., Ed started whistling to arouse the group. This day we needed to cover at least 12 kilometers.
We modified the route to use less trail and more fire breaks and narrow jeep trails so we were able to cover more ground. This morning there was a lot of wind so the layers were welcome.
We found a nice sheltered area for lunch near some pine trees. We continued on an old railroad bed and passed the site of a now abandoned logging town named McPhee.
Later in the afternoon we passed to the east of a stream and found a flat area next to it where we camped for the night.
Ed's GPS unit indicated the stream was 50 meters into the brush from our bivouac area. We found a faint game trail and walked it to the stream to get water.
There was about 2 to 3 centimeters of ice for which the group machete was used to chop through it to get to the water. It was our first encounter with cutting through ice to get water.
We followed our usual routine of setting up camp, starting a fire, eating supper and then talking around the fire.
Sunday night was our coldest of the trip with the temperatures dropping to about 5 degrees Fahrenheit. We wore some layers to bed for warmth depending on the sleeping bag rating.
In the morning we got an early start again for our final day. It was windy and cold but a beautiful sunny day.
About 12:30 p.m. we arrived at an intersection that was 1 kilometer from the vehicles. Jenelle and Milton stayed there while the rest went and got the vehicles.
It was quite a strange feeling to be riding in a heated vehicle after 4 days outdoors. From there we went back to the start area to get the other vehicles.
We then went to Atlanta to get some lunch at a restaurant. After a welcome lunch we each said our goodbyes and went our separate ways.