---
Our four-day backpack through the Green Timbers Wilderness Tract and the Pigeon River State Forest was a trip of relaxation and renewal as well as a rehearsal for future wilderness tripping challenges. The participants were Gail Staisil of Midland, Jane Beckwith of Lansing, Kevin Breen of Grand Rapids, myself, and Michael Neiger of Marquette.
The area around Green Timbers does not permit any visual boredom. We began the hike in a cleared area crowded with young aspens competing for sunshine. This blended into open meadows on low rolling hills, dotted with the burned out stumps of the original forest giants. We scanned these for elk.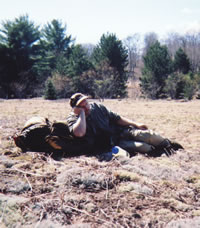 Low land by streams had alder thickets, stands of pine, and tangles of cedar. There were high ridges, some open, some covered by mixed or hardwood forest.
There were streams in assorted sizes: Club Creek and the Sturgeon and Pigeon Rivers. We viewed them from ridge tops twisting below us, sparkling in the sun beneath the pale green haze of new foliage on the trees.
We found them winding through swamps with cedars bending over them from both sides to make a deep green tunnel. We drank their clear cold water. We crossed them on bridges and waded through them where there were none.
We saw the effect of a dam on a stream: Cornwall Flooding, a sizeable placid lake with numerous offshore stumps and snags and much evidence of beaver activity--though the dam itself was manmade.
And finally, we saw a number of sinkhole lakes: deep round or nearly round depressions filled with cerulean blue water and edged with white sand and the bleached trunks of fallen trees. Gail's post trip research determined that these came into being when underground caves collapsed and filled with water. These caves were created by the erosion of relatively soft layers of limestone by underground streams.
Areas where sinkholes occur are called karst regions and often contain unique ecosystems that are very sensitive to outside influences because of their isolated nature. The sinkholes we saw were posted to prohibit camping and fishing for that reason.
Friday evening we camped atop an open hill that gave us an impressive view of a wetland and of the meadowland surrounding it. More opportunity to scan for the elusive elk.
The wetland provided the water at this campsite. It was the color of iced tea and contained enough mosquito nymphs to meet a person's protein requirement for the day. Tasted better than city water though.
Some of us had bivouacked here in early April the year before. Sleeping out on the hill on that trip we were aroused by 40 mile an hour winds and the need to take down our tarps, which were flapping wildly like sheets on a clothesline. Some of us elected to sleep out there again and this time all was quiet.
Turning over in the night I would fall back asleep marveling at the intensely starry sky-- so different from what is visible in town. I awoke for the day just a little after dawn to chilly feet and a world sparkling with frost.
Saturday we hiked some extra miles to reach another spot at which we'd camped before--an island in the Pigeon River covered with huge cedars and surrounded by the sounds of flowing water. Hard to say whether it was the cushy bed of cedar duff, the soothing water sounds, or the fact that it was warmer, but I slept very well there! Gail liked this spot too, describing it as a "pristine pine forest camp...with so much tranquility."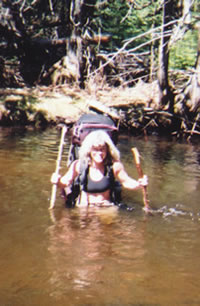 Sunday night was a new bivouac on the shore of Cornwall Flooding. Not as choice as the other two, it was still more than satisfactory. It afforded a view of the lake populated by turtles, muskrats, and waterbirds that unknowingly provided much of our evening's entertainment.
Kevin said the varied campsites were one of his favorite parts of the trip. He liked their "remote, hidden, and interesting" nature.
Each trip is a chance to catch up on the intervening events in friends' lives and/or to get to know someone new.
Jane told a very entertaining story of her recent experience with llama packing--complete with amusing imitations of the animals' mannerisms and accounts of their occasional "attitude problems."
Kevin seemed to be an inexhaustible source of information about flora and fauna--those we observed and what he had seen on other trips and in nature centers.
Michael's dialog pertained mostly to wilderness skills and upcoming trips. We were entertained by his plans for Puskaskwa--hope the reality will be as enjoyable!
After the trip, Gail said, "The enthusiasm that Michael displayed when his pack floated made me realize that our next trip will have more interesting challenges."
May is a particularly pretty time of year: everything is moist and green or becoming green.
The trout lilies had finished blooming and trilliums were just getting started--we saw large flowered and snowy varieties. There were patches of violets and the lavender trimmed blooms of hepatica.
Flowering shrubs and trees--dogwood, cherry, and others--were scattered throughout the woods, their pink and white blossoms standing out against the pale greens of new leaves.
Kevin had his binoculars out often in search of warblers, thrushes, and such. We saw a number of woodpeckers--they call attention to themselves with their insistent drumming--and we heard woodcocks and grouse conducting their mating rituals at dusk and dawn.
There were quite a few mallards hanging around the ponds and streams. Gail and Kevin spotted some mergansers and a loon on Cornwall Flooding.
One day at lunch we were visited by a bug that looked like a cross between a small bee and a giant mosquito. It had large dark eyes that looked like sunglasses. It hovered motionless for a second or two before landing on my sleeve as if to say, "What are you looking at? You look pretty improbable yourself, you know." It made me chuckle.
Post trip investigation disclosed that this visitor was probably a large bee fly, an insect that subsists on nectar as an adult but parasitizes the nests of solitary bees in its larval stage.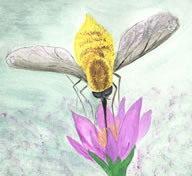 Each trip is an opportunity to try new things and improve your system. Michael brought a recently purchased hammock to experiment with. Trying it out at the trailhead the night before the hike, he decided it needed some retro work and did not bring it along. He also had a retroed pack which despite its unusual shape, like a military ALICE pack, seemed to carry well and pack easily.
Working on becoming an "ultralight" hiker, I also had a new pack and was getting adjusted to its differences--it was working pretty well once I got it organized. My new boots were another story: I thought I had broken them in sufficiently, but by day two my feet refused to be put back in them and I finished the hike in sandals.
Thinking of switching from tent to tarp but unsure of her ability to make a shelter from a flat piece of cloth, Jane brought the next lightest thing-- a poleless hexagonal teepee made by Golite. She and Michael experimented each evening with different ways of suspending it.
Jane also watched to see what Gail, Michael, and I did with our tarps. Of this trip she said, "I had a lot I wanted and needed to learn on this trip. Learn I did!..... Next time I know I can spend more time watching the sunset and less time preparing the roof over my head."
Another goal on this trip was to practice stream fording (we did plenty of that) and to see how a waterproofed pack behaves in the water so as to know what to expect in a real deep water crossing. At one stream Michael wrapped his pack and floated it across. It was surprisingly buoyant and not too difficult to handle.
As always, we practiced with map and compass, Michael being in the teaching role and the rest of us soaking up whatever we could.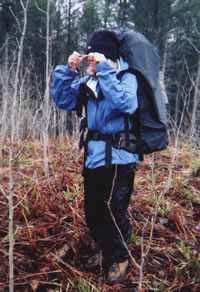 With the beautiful weather, few insects, and excellent company, this trip was easy and fun. If it had any deficit, it was that it ended too soon.
---
Return to top of page | Return to home page
In God's wilderness lies the hope of the world,
the great, fresh, unblighted, unredeemed wilderness.
— John Muir 1838-1914, Alaska Wilderness, 1890

Content Copyright © by Michael A. Neiger
All rights reserved.
Comments? Suggestions? Dead links? Inaccurate info?
Contact the WebMaster at mneiger@hotmail.com