I arrived at the trailhead about 12:15 a.m. When I arrived, Michael was already there in his sleeping bag, perched on the plowed snow bank overlooking the parking lot.
The sky was clear and the moonlight was beautiful shining off the snow. We slept in the parking lot. I was somewhat cold during the night but okay.
Thursday morning came and I got up about 8 a.m. Dennis and Gail arrived about then. The low that night was -14 C/7 F. We also discovered that Aaron had arrived the day before and slept in his vehicle that night.
We all signed and initialed the waiver and paid the $15 trip fee. Then we got dressed for the trail and organized our equipment to fit on the sled. I used stuff sacks for everything except the sleeping pad.
Since I had never seen a sled before, it took extra time to get everything packed, loaded on the sled and tied down. There are 5 ropes on one side of the sled and 5 loops on the other side. The ropes are threaded through the loops and tied to secure the load.
After some trial and error, Michael decided that it would be best to use my day pack to pull the sled. I had brought a number of items to use in pulling the sled. We finally got underway about 11 a.m.
From the parking lot we bushwhacked northeast through mixed evergreen and hardwood forests. The terrain was hilly but not difficult. There was a lot of recent snow which made the powder quite deep. The sections of evergreens were more difficult to traverse due to the way they intertwine together.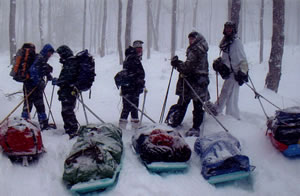 We stopped for lunch about 1:30 p.m. in a sheltered valley. The snow was about 60 cm deep. It snowed during most of the lunch which made things interesting. I used my backpacking stove to prepare some hot food although it took a long time.
By the time I finished eating and got underway, everyone had started down the trail. I walked over 30 minutes by myself until I met the group again, where they were stopped for a break.
It was about 3:30 p.m. One of my snowshoe poles had lost its basket while the other one would not tighten. I did not have to go far to find the missing basket and Michael fixed the pole so it would tighten.
After that we continued on until we found the NCT (North Country Trail). This trail enters Michigan south of Jackson and continues through the state before exiting near Ironwood.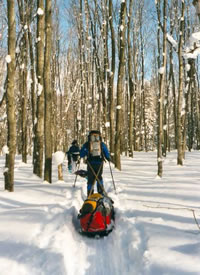 We followed the trail for another hour before turning left to find a place to camp. I was quite tired during this shift mainly due to not being used to pulling a sled and traveling by snowshoe. We found a nice place to camp in the hardwoods for the night.
Dennis and I used tents while Mary and Michael used tarps. I had a very difficult time getting the tent poles into the tent grommets. Gail and Aaron each constructed a snow shelter. Having no experience with snow shelters, it was interesting to watch.
This is the method used. First a large pile of snow up to 4 cubic meters is built by shoveling snow. The pile is allowed to set for at least 20 minutes to harden.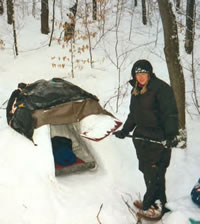 After that a trench is dug to the bottom of the pile that is as wide as the snow shovel and about 3/4 of the way to the back of the pile. The interior of the pile is then hollowed out on each side of the trench taking great care not to collapse the mound.
Finally some sticks or poles are placed on top of the trench and a tarp is laid on top of the supports to enclose the shelter. Care must be taken to provide enough openings for ventilation to prevent oxygen depletion.
Mary unveiled her new improved wood stove. She had added legs to it to eliminate the problem of the logs burning up when they were used to support it. Her improved stove worked very well.
It was a cold evening with snow flurries and temperatures ranging from -14 C/7 F to -12 C/11 F. It seemed that whenever it would warm up it would snow. It was an interesting experience to be sitting near a small wood fire in the winter at night while it was snowing trying to cook and eat some supper.
I tried out my improvements in melting snow for water with the exception of filtering the melted snow. This is how it worked.
I filled my 2L pan full of snow and packed it as firm as possible. Then I placed the pan on the fire and allowed it to heat. Periodically I took the pan off the fire and added more snow.
It is important to keep the snow tightly packed in the pan to prevent overheating until there is water in the bottom. Snow is dry and without care the pan can overheat.
The snow acts likes a sponge and absorbs water until saturated when it is slush. Only then will water start accumulating in the bottom of the pot. Once this stage was reached the process was easier.
I just kept adding snow until the pot was almost full of water. It is important to heat the water until at least lukewarm 50 C/122 F. Then when the water is transferred to the water bottles there will be a reasonable period of time before the water cools and starts to freeze.
Care must be taken to ensure there is no ice on the cap or threads. At least twice during the trip, a full bottle of water was lost because the cap was not tight due to ice on the bottle threads or cap.
If desired, the water can be filtered before pouring it in the water bottles. Snow always contains some debris no matter how or where it is collected. When going to sleep for the night, the water bottles are put inside the sleeping bag to prevent freezing.
During the night I was comfortable until about halfway through the night when I started to chill. I added a second layer of fleece, my fleece balaclava, insulated mittens and a pair of fleece socks with another pair of wool socks over them. With these additions I was able to stay warm until morning.
In the morning my thermometer read -19 C/-3 F. but Michael said the overnight low was -21 C/-6 F. Apparently the temperature had really dropped during the night.
I got dressed and went over to the fire to cook some oatmeal for breakfast. During this time I got cold feet. They were somewhat numb also with some pain.
Michael said they would warm up once we got moving. Sure enough about 20 minutes down the trail I felt slight pain in the toes for about 5 minutes and they were okay. I was thankful it was not serious.
We continued on the NCT all morning and into the afternoon. We went downhill several contours before reaching an evergreen swamp where we stopped for lunch about 2 p.m.
It had warmed up substantially to -6 C/21 F. After a good lunch we continued on the NCT a short distance coming to a plowed road. We turned left and hiked down the road.
After some time we stopped and I told Michael that my snowshoes were loose. He examined them and found that I had incorrectly tied the straps. After he corrected the problem I was able to make much better time. Prior to that time, I was having a lot of trouble keeping up.
We continued on the road for over an hour when we turned left onto a smaller road. We went down this road until we came to the spot that was closest to the lake, Naomikong Lake, where we would camp for the night.
It was a 600m bushwhack to the lake. Gail and Dennis thought they were supposed to go along a ridge but got bogged down in thick brush. I called to them but got no answer.
I continued on to the campsite and told Michael that they may be in trouble. He went back to help. First Dennis showed up then Michael and Gail arrived. I was thankful they were okay.
It was almost dark when we arrived at the night's campsite. It was relatively mild with temperatures near -7 C/20 F. After some confusion as to whether I would sleep under Mary's tarp, I pitched my tent underneath a tree.
I tried to melt some snow but my stove failed. The fuel would not flow from the fuel bottle to the stove. From then on I used the campfire for all cooking and melting snow.
Mary had brought desserts for each night and also some steak. She would share them with the group which was most appreciated. Food storage is not a problem in the winter.
By the time the food details were completed, the full moon was high enough above the horizon to be brilliant. I went on a walk with Aaron along the shore of the lake.
We tried a couple of times to find a way to the shore before we were successful. It was a spectacular view to see a pristine lake in the moonlight. Mary also took a walk in the moonlight after we returned.
Then I went to bed for the night. I had some trouble getting asleep. The other 4 gathered around the campfire and talked for quite awhile. Dennis was asleep in his tent.
Friday night was the only night I stayed warm all night without adding extra layers. In the morning it was -10 C/14 F. We did not get underway until 10 a.m. I was still close to last in getting ready in the morning. We retraced our steps back to the road.
I lost a snowshoe and didn't even know it until I reached the road. Michael was behind me and brought back my missing snowshoe. We continued down the road until it ended, then we started bushwhacking to the left.
We went through some hardwoods on a slight incline. It was one of the prettier sections of the trip. We stopped for lunch in the midst of a hardwood woods. There was light snow during the lunch stop with a temperature of -7 C/20 F.
I had not quite finished melting snow to get 1.5L of water when Michael told me to go over to the sled to start packing. When I returned I found that the pan had fallen over and all the water was lost. I said that I would not leave melting snow unattended again.
After lunch we continued through more hardwood woods before turning left into a swamp. The swamp was quite interesting. There were small scrub pine trees here and there but otherwise it was open.
There was quite a strong wind. Fortunately we were not heading into the wind. We continued for some time in the swamp, eventually coming to a more heavily wooded section of it. We found a sheltered spot on the edge of the swamp and stopped for camp there.
It was about 5 p.m. There was a steady snow falling all that evening. Aaron and I constructed a snow shelter but Aaron did most of the work. When it was done, Aaron said I could use the shelter and he would sleep under Mary's tarp. It was very kind of him.
This night was the only night I was short on hydration. I borrowed some water from Mary. After eating and melting snow, I crawled into the shelter for the night. It was difficult to get dressed without bumping the walls and having snow fall on your stuff.
During the night, the sky cleared and the moon was visible, but being in the snow shelter I could not see it. I had a lot of trouble staying warm. I added a full extra layer. Even with that, by morning I was on the cool side.
When I got up it was -15 C/5 F. I had a problem with frozen boots. Dennis was kind enough to lend me his insulated camp booties. Wearing those, I took my boots over to the fire to thaw.
I learned that the toes of the felt liners had frozen into the boots. During the day I wore Seal Skins socks which I thought were waterproof. I thought they would keep moisture from getting into the liners but instead they were waterproof and breathable.
Eventually the boots thawed enough to get the liners out. I put on my spare pair of liners and was able to wear the boots.
I also learned that my sleeping pad was not suitable for winter weather. It is an open cell pad. I bought it specifically for winter camping since it claimed to have an R rating of 6.7. I was rather angry at this discovery.
What works in the winter is 2 closed cell pads each 13 mm/0.5 in thick. I have tried an inflatable pad but was unhappy with it because the valve would freeze and the extra effort to inflate and deflate it.
We crossed the swamp to the opposite side of our camp and entered hardwoods. The hardwoods soon gave way to evergreens. It was beautiful to see the freshly fallen snow on the trees.
About 12:30 p.m. we stopped for our last lunch. It was the coldest lunch of the trip with a temperature of -9 C/15 F.
Since it was Sunday afternoon, Michael asked me to give a mini-sermon. This is what I said:
I was at the University of Michigan campus one evening about 6 p.m. when I saw a crowd gathered. There was a man shouting, "You Christians are the worst people around. You're dishonest, selfish, liars and cheats. I would never want to be a Christian."

I saw a man that I recognized from a church I used to attend standing there with a horrified look on his face wishing he could disappear. Apparently he had been evangelizing.

I then pondered what I would have done in his situation. I decided I would answer the man saying, "You're right. Some of the people I have met who claimed to be Christians are worse than unbelievers."

" I have seen some very selfish, inconsiderate and dishonest Christians myself. However that is not the point of Christianity."

"The goodness of those claiming to be Christians is not why we should accept Christ. Instead it is because we are all sinners. Not one of the more than 6 billion people alive today is without sin."

" God is holy and has decreed that the penalty of sin is death. Since we all have sinned there is no hope. That is why God provided a way out for mankind. God sent his son, Jesus Christ, to die in our place for our sins."

" Jesus Christ accomplished what no human is able to which is to live a totally sinless life. All we have to do is believe in Jesus to be saved and have eternal life. We do not enter the kingdom of heaven by good works, it is only by believing in Jesus Christ that we are saved."

That is the way I would respond if I faced a similar situation. I told them how I accepted Christ at the age of 8 by the pastor of a church in Williamston, Michigan.
After lunch we continued on a snowmobile trail before starting another bushwhack to the southeast. Fatigue was obvious at this point as the pace was much slower with frequent stops.
We stopped early at 3:30 p.m. to camp for the night. It was a beautiful area within some hardwoods. Having daylight for most of the evening activities made them much easier. Aaron constructed another snow shelter for the night.
Michael loaned me his 6mm pad to use. I went to bed about 7 p.m. I learned how to deal with frozen boots. I put the boots in a stuff sack and into the sleeping bag until around midnight. Then the boots had thawed enough to get the liners out. I then left the liners in the sleeping bag for the remainder of the night.
During the night I got cold once again and added a layer of fleece. I was thankful that Michael had loaned me the pad. I would have had even more problems with warmth without it. The sky cleared during the night and the moon was visible. It was beautiful.
In the morning it was -18 C/-1 F. I was able to get the warm liners into the frozen boots without difficulty and did not have trouble with cold feet.
We got underway a little earlier. Dennis was anxious to get back since he had a 7 hour drive. After about 45 minutes of bushwhacking we came to a plowed road. Dennis left his sled behind a log and walked the remainder of the trip on foot.
The rest of the group continued onward for the final shift in the woods. Fatigue was very obvious with a greatly slowed pace and many stops. After some time we reached the road that we had parked on Wednesday night. We soon arrived at the parking lot and the trip was over.
We cleaned the accumulated snow off the vehicles and pulled them forward toward the middle of the parking lot for loading. After the vehicles were loaded we headed toward a restaurant in Strongs for lunch, except for Dennis who had left earlier. The food at the restaurant was excellent. After lunch we said our good-byes and headed our separate ways.
I figured out that I consumed 46.0 MJ/11k calories of my own food in addition to that which Mary gave me. This gave a rate of 11.7-13.4MJ / 2800 - 3200 calories/day.
The normal high and low for Newberry, Michigan for January are -5 C/23 F and -14 C/7 F. The average low on the trip was -16 C/4 F which is reasonable compared to the normals.