I left early this morning from my brother's home in the Keweenaw to meet my trail partners. We were to meet at an appointed place on the Peshekee Grade near Michigamme. Rain mingled with mist on my nearly seventy-mile commute, no rain was predicted but the forecasts are always questionable.
I arrived promptly to find my trail partners hungry and raring to go. They had already decided to have breakfast at a restaurant before spotting cars. My partners included Michael Neiger of Marquette (trip leader), Dan Soper of Flint and Mary Powell of Flint. I would complete the contingent.
We all headed off to breakfast at the CrossCut Inn on US-41 and then proceeded to Deer Lake Road where we would start the trip...a distance of about 40 miles from where we had left the other cars on the Peshekee Grade. We left Michael's new van near a washed out bridge on the Dead River. This is where our journey begins.
As with all of our trips, our route is unscripted. We know the start point and sometimes the end point but much was undecided in the middle. Our start point for this trip was chosen with the intention of exploring the area that was devastated by a flood earlier in the spring.
This was a major flood of national proportion. It caused an estimated 102 million dollars of damage environmentally and economically. An earthen dam burst on the Dead River in the Silver Lake Basin on May 15, 2003.
It moved massive amounts of soil and trees in addition to greatly damaging fisheries. Much of this debris ended up in Lake Superior, twenty miles away. During the first portion of this trip, we would witness the extent of the damage and then we would head west into the McCormick Tract.
We first had to cross the Dead River at the washed-out bridge. We quickly donned sandals and regrouped to head out on the remnants of a road that went to the dam. We instead decided to follow the river's edge but quickly discovered that much of the soil was of the quicksand variety. We clambered back up the slope and occasionally bushwhacked closer to the river so that we could view the area.
Our initial views showed much ugly destruction of the riverbanks but as we went further, the destruction had a pretty side to it. There were layers and layers of exposed bedrock in brilliant shades. Each spot seemed better than the next. Much of it was in large chunks or else it was stacked in plate-like formations. We dropped our packs and thoroughly explored the extensive colorations.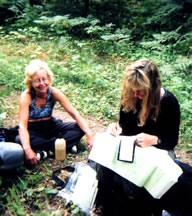 After a break, we decided to don our packs again and meander up the river itself, which involved much rock hopping. We checked our location for accuracy and then bushwhacked away from the river's edge as the dike areas we were starting to see were currently illegal to walk on. Much of the area had been off limits post-flood so we religiously avoided any areas that were still posted.
We later came out to the east side of the Silver Lake Basin and followed the stump-and-log-covered drained area. There were literally thousands of uncovered stumps so it was like walking through a gigantic maze or puzzle.
Michael and Mary started searching for fishing lures that had ended up on the exposed shoreline. This area was very popular for fishing so they uncovered quite a few, some that were useful.
It was time to find a bivy spot for the night. We decided to stay in an open sandy beach area with many deadfalls. These deadfalls were useful for backrests and provided wind protection. With the abundance of wood, setting up our tarps was as easy as it gets. I had my hammock set up to lay on the ground in full view of the stars. Our tarps were pitched only to ward off the inevitable condensation in an open area.
It has been a great day--our sightings for today include several sets of moose tracks and two bald eagles. We also got to munch on blueberries, raspberries and a single bush of blackberries.
During the night, I woke up and took a little walk down the beach. It was a calm silent night with Mars brightly shining on us. Mars is closer to Earth right now than at any time in almost 60,000 years. I have been routinely getting up and checking it out for the last week or more while I was backpacking on Isle Royale.
After a leisurely paced breakfast, we all headed out along the basin. Michael told us of a cabin that was hidden in the woods and only reachable by water. When he discovered it at least fifteen years ago, it was partially completed and abandoned. He heard that there were now new owners so we were curious as to its condition.
It was located quite a bit back in the forest along a ridge, very undetectable from the water. We found it and checked the surrounding area. It looked like a bear had gotten into some of their goods, which were strewn around outside of an icebox. We could see teeth marks on some of the articles.
The door to the log cabin was massive with a huge latch. The cabin was supported by enormous fieldstone pillars mortared with cement. All of these materials probably were taken directly from the land or hauled in by boat or snowmobile.
Dan noticed some huge skis under the cabin. Ski jumping has a significant history in this area so it was heart warming to see such old wooden ones. I quickly posed with them with my arms in victory...something I haven't personally experienced...being the top three overall in a ski jumping race!
After the exploratory break, we headed further down the north rim of the basin. There are many great outcroppings of rocks. We could see where a lot of this rock was uncovered when the dam burst. The old watermarks were at least thirty feet higher than the present level.
We were off to the old silver lead mines on the north rim of the basin. Michael quickly located the mines but both were gated for safety. At the first mine, we could see numerous drill marks on the cliff that it was built into. We could see into the second mine quite a ways.
It had a vertical shaft that was filled with water. Drill marks covered the cavernous walls while water dripped from the ceiling. The horizontal shaft appeared to terminate at about 30 ft. We donned our headlamps to scan the walls, which were rigidly intact.
We ascended the cliff wall near the first mine and had lunch at Silver Lead Mine Lake. We then headed off and climbed some outcroppings where once again we could see a view of the basin we had left this morning.
We descended into the forest where we searched for some other old mines. We split into two groups so that we could make more effective use of our search.
We found two more mines, a foundation of a building associated with a mine, and many pieces of iron. Some of the pieces were in identifiable shapes such as shovels and wedges where other pieces had us guessing. There was a large slab of rock supported by smaller rocks in the middle of the foundation walls. We once again projected a number of ideas as to its former use. Everyone in the group has a different but somewhat related idea. It often leads to laughs or positive reinforcement.
After the mine explorations, we decided to head back to the basin and walk the emerged shoreline. This part of the shoreline is covered in exposed tree stumps, wildflowers and grasses. It amazing how all these plants have taken root so quickly after the water receded. We all collected huge amounts of grasses on our boots as we tugged our way through. It looked like we wore gigantic mukluks made of grass!
It was time to find a spot to bivy for the night. We decided that the edge of the basin would allow for good views of the setting sun as well as wildlife watching. We chose a spot not far from where the Wildcat Canyon Creek meanders down to the lake bed. It had a pool of water in it in which a single, eight-to-ten-inch trout had got trapped. It would have to stay there until more water flowed through the creek bed in the Fall. No one had brought a fishing license on this trip to use with our primitive equipment so it would have to stay there.
Michael offered to help Mary build a shelter for the night to keep her warmer. Her fleece sleeping bag was on the low end of keeping her warm so the shelter would add some desired insulation. They both collected sticks and built a basic frame. From there they added massive amounts of collected grasses and leaves. It took two hours to build with both of them working steadily. Everyone quickly agreed that this type of debris shelter takes too much energy to build if one were in a lost and low food situation. It would be better to gather up materials against a fallen tree and blanket oneself there.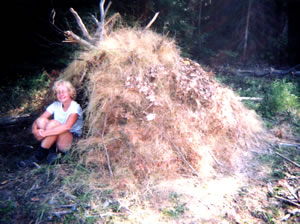 The shelter was so well constructed that we would hate to leave it behind tomorrow. It will withstand weather for quite sometime. We speculated as to what people would think when and if they found it. I decided that they would think it is a hunting blind!
We settled down for an evening in the bush. We have seen moose tracks again today so maybe we'll get lucky. During dinner, I offered everyone pudding with pecans for dessert. Unfortunately it didn't set up and it was quite runny, we all had a good laugh.
We had another great night. The stars were brilliant and Mars was evident. We all met for breakfast in the flower-filled meadow. After packing up, we headed across the meadow and up a steep draw to find the North Country Trail. This trail currently ends at Cole's Creek so it is barely discernable. It winds around quite a bit but there are some marked trees and red ribbons which are quite helpful. We checked out a prominent knob and later crossed Wildcat Canyon Creek. As we ventured on, we decided to take the trail as long as it followed the ridges going west.
Occasionally we would bushwhack off a ways to check out some interesting features on the topo map. We eventually crossed Dishno Road. Cairns marked the trail in this location. We checked out an unmarked lake in this vicinity, which turned out to be quite remarkable.
This awesome lake was surrounded by bog except for the opposite shore which had a rock outcropping. Northern bogs often form in old glacial lakes of this sort. Its wetland ecosystem is very specialized. The spongy sphagnum peat moss that almost surrounded the lake cause the lake to be very acidic. One of the species of plants that were in abundance there were pitcher plants. They overcome their nutrient needs by capturing insects in pools of water in its leaves and digest them with the help of bacteria.
We decided to take this adventure a step further--we would swim in the bog lake, a new experience. Mary tested the waters for us, she reported that the bottom was endless right from the edge. Michael and I had to join her as it looked so inviting and its icy waters refreshed us.
Four eagles flew overhead as we stood in the bog catching some wind and sun before we returned to our packs.
Our plans for the evening included leaving the trail and heading southwest to the Dead River. We would bivy there for the night. Upon arrival at the river we noticed a trail on the opposite bank that was probably made by a land owner. We thought it would be best to stay on the north bank but the bush was extremely thick and hard to penetrate. We were not making the headway we desired. Michael suggested that traveling in the river might be a better option.
We donned our river shoes and starting wading upstream. The first person in line got to observe swirls of minnows around them but the followers were greeted only with very murky waters. It made it hard to navigate as you couldn't see the large holes that were seemingly everywhere. Most of us were immersed at least to the top of the thighs some of the time. Other areas would suck your feet into the bottom, as we continued it became more difficult to walk.
We finally arrived at a suitable bivy spot after more than an hour in the river. We were all elated to get out and settle in for the night. Tiredness and hunger will do that. Mary treated everyone to a peach dessert, which highlighted the evening. We all retired early.
It's Labor Day today but there is no rest for us. We headed north from our bivouac location. We climbed through a mixed hardwood forest and eventually picked up a short section of the NCT before hitting a road, which might save us a little time.
Dan told everyone that his ankle was causing him problems. We all stopped and Mary evaluated and wrapped it. We talked about options for concluding the trip. Dan wanted to walk a bit more before making a decision.
While we were contemplating how the rest of the trip would pan out, an ATVer came by, stopped and engaged in conversation with us. He had a camp on a bog lake in the area so he was very in tune with the different camps and roads in the vicinity. He told us of his wolf sighting this past week and of other sightings. He was presently out baiting bear but really just liked to observe them. We dubbed him "Mr. Friendly" as he was so much fun to talk to.
After the break, we headed off down the road with Dan trying out his newly wrapped ankle.
I pointed out some unusual blue flowers that I hadn't seen before. They were from the Gentian family, most likely Narrow-leaved Gentian.
The rest of the trip involved heavy bushwhacking in the McCormick Tract so Dan decided that it was foolhardy to continue. Trails and roads are not an option in the Tract. At present, he could take roads back in a roundabout fashion or try a portion of the NCT. The NCT is not marked in anyway in the McCormick Tract. It is rarely utilized so navigating it is more difficult than following an azimuth. Mary would join Dan on his venture and then we made plans for them to join us the following night if everything went well.
Michael and I headed forth. We found an unmarked road and we took it for a ways. I took compass readings as we changed directions and Michael recorded them and counted paces. Periodically we would sit and plot the recordings on our quads. We traveled generally north and west and came to an unnamed lake on the Dead River. Part of it was being succeeded by swamp but the far end looked inviting. We had a long break on a nice rock outcropping.
We headed north again and I pursued an 800 meter azimuth to Lake Margaret. The azimuth went smoothly because the swamp on the quad map was dried up making navigation much easier. We headed up to the eastern shore where we found two outstanding outcroppings of rock. We would stay at one of them for the night. We quickly dropped our packs and went swimming. It was quite refreshing as we were overheated from the journey. The sun shone beautifully on the outcropping and we had dinner while watching the sun recede.
It had been a comfortable night. The moon was bright and nearing its halfway status. Morning arrived and I was very content to just lay there. The sky was changing rapidly and reflecting in the calm water--so pretty!
We packed up and hand railed along the south shore of Lake Margaret. We stopped often to take in views from the outcroppings of rock. When we reached the western edge of the lake, we took a long lunch break. We swam across the channel to more outcroppings to research future bivy sites. After the swim, we noticed a loon and her two babies swimming nearby...we had heard the loon cries earlier.
It was time to get back on our "plan". We found a place to cross the smaller river channels on our way to the main channel to White Deer Lake. We had hoped to cross between Bulldog Lake and White Deer Lake and then head on to the Fortress. I took an abrupt fall on the descent to the channel. Both legs were a mess but nothing to keep me from moving forward.
We now arrived at the main channel between the lakes. The edge was covered in muck, very deep muck. Michael tested it with his wooden hiking stick and it sunk down many feet with no bottom in sight. We followed the edge for quite a distance and it became apparent that we would have to swim across the lake instead.
When we reached White Deer Lake, the mucky shoreline continued. We finally were lucky to find a rocky spot where we could enter the water without being sucked up. We scouted visually the opposite shore to locate a rocky area where we could climb out of the water. The winds had picked up quite a bit and we were to head out directly into the wind so we made allowances for getting across accurately.
We tarped up our packs and headed into the water. We were quickly surprised at how shallow the water was all the way across. The bottom was endless, sucking muck so as I scissored across, swirls of muck floated everywhere. Michael told me that he was having better luck clawing through the muck with his arms. The lake had a powerful aroma, perhaps organic in nature.
It was hard to keep our packs in alignment in front of us as the winds wanted to take them away. I was never so glad to get to shore. We were once again an unsightly mess, we had to attempt to clean up somewhat but our water source of course was mucky. It took both of us quite awhile to wipe off the mucky debris. We could now head to our destination--the Fortress!
The Fortress is a large rocky bluff area that was once a picnic site for the McCormick retreat. It is now difficult to find due to the lack of roads or trails but worth the effort nonetheless. The McCormick Tract Wilderness was donated to the Forest Service in 1967 after years of being owned by descendants of Cyrus McCormick who invented the reaping machine. Now there are 27 square miles of protected land under the National Preservation System.
We hoped that Mary and Dan would be able to meet us at the Fortress. We were getting in a little later than normal, it was already 7 p.m. Mary was waiting but told us that Dan had camped over near the access trail to White Deer Lake as his ankle wouldn't take anymore abuse.
We were rather tired but settled in shortly. The winds were roaring so we bivied back in the bush away from the bluff. Mary treated us to a great apple dessert...it was worth swimming to!
The winds roared through the night. The moon shone brilliantly on the lake below. I could see it from my hammock. Distant lightening put on quite a show, we all waited for the storm to arrive. I heard Mary get up to further secure her tarp. I decided to get up as well to check the safety of all my gear. The storm never arrived but we had been prepared. :)
We awoke to a beautiful morning, much cooler than yesterday. Today we only had about four miles to travel, the first part would be bushwhack and then we would take the three mile trail back to the old Huron Bay railroad grade (Peshekee Grade).
Along the way, relics from the past lay in the bush. It reminded us of the long history of the Tract. We explored to see what we could find--we found iron parts of machinery and old bottles and pieces of crocks.
It was an easy walk back. There are some high cliffs along the way which make for interesting topography. Michael relayed that he had bivied on top of one of them in the past. Perhaps we will utilize them on the next McCormick Tract trip.
We met Dan back at the parking lot. He had his first successful solo night at the southwest end of White Deer Lake. Another trip was about to conclude. Everyone is always quiet on the last day, none of us want to leave but we all individually and collectively speculate that we'll be back. We headed back to the CrossCut Inn for lunch and then I shuttled Michael back to his van so that we could all rest up for another trip!
View author's
Photo album from this trip
View Dan Soper's
Photo album from this trip